Ryan Tannehill named Miami Dolphins starting QB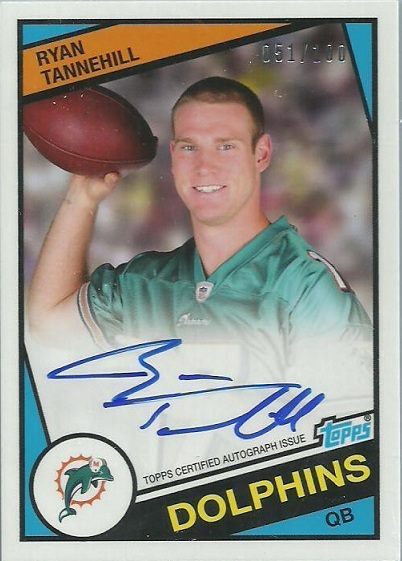 By Susan Lulgjuraj | Beckett Football Editor
For more than a decade, the Miami Dolphins have looked for a consistent quarterback. Not the next Dan Marino, but at least someone that could help the Dolphins be competitive.
Miami has had eight different starters at quarterback since Marino retired in 1999, and have made the playoffs once in the last 10 years.
The Dolphins named their ninth quarterback starter since Marino and they hope it's something who will last for several years – Ryan Tannehill.
Tannehill (get an OPG and checklist here) was picked eighth in the quarterback heavy 2012 NFL Draft.
So, Andrew Luck and Robert Griffin III aren't the only rookies with the job of leading a team this season. But it makes the triple auto of all three guys from 2012 Inception a popular card right now.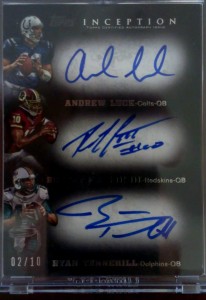 One of the cards, which is numbered to 10, sold for $697 on eBay on Tuesday.
How much did Tannehill's newfound status as Miami's No. 1 quarterback help that card?
Seemingly, it added an extra $80 as the same card (though number 2/10) sold for $620 in July and another sold last week for $615.
However, it doesn't seem as though Tannehill's cards are commanding RGIII or Luck kind of money on the secondary market. Even in the last two days many of his autographs have sold for under $100.
But one of the biggest sales on eBay of a solo signature of Tannehill's was 2012 Topps 1984 Rookie autograph that sold for $365, which is numbered to 100. The base autograph version of the cards, however, have consistently hovered around $200 before and after the announcement.
Susan Lulgjuraj is the editor of Beckett Football magazine. You can email Susan here with ideas, comments and questions. Follow her on Twitter here.