Roy Halladay isn't your typical Hall of Fame pitcher. For a sport that makes 300 wins a defining mark of greatness, Halladay won just 203. But those defining marks are changing how people look at baseball. Halladay's dominance on the mound resulted in Cy Young Awards in both the American and National Leagues. He was also a runner-up twice, an All-Star eight times and in the top ten for MVP votes twice. Make now doubt about it, Halladay's career was special and worthy of all the recognition it gets. It's taken some time, but the Roy Halladay Rookie Card lineup is getting attention now as well. The numbers aren't in the stratosphere, but they're respectable.
For those looking to collect Roy Halladay Rookie Cards, he has just three. All are from 1997 Bowman products. Put up against a lot of other Hall of Famers, they're not very expensive. At the same time, they're past the hump of the over production that plagues a lot of Rookie Cards of Cooperstown inductees who made their hobby debuts in the late '80s and early '90s.
Beyond Rookie Cards, Roy Halladay has a sizable number of early minor league cards as well. Best is responsible for most of these, although there are others including some tough team issues.
Roy Halladay Rookie Card Rankings
Spots are determined by value in the Beckett Baseball Card Price Guide. Only cards with the RC tag are included in this part of the list, not inserts and parallels. That said, some key autographs and a detailed minor league card breakdown follow.
3. 1997 Bowman's Best Roy Halladay RC #134
This is the Roy Halladay Rookie Card with the razzle dazzle. It has a much bigger design than his other two RCs. And it carries on to the parallels as well, particularly the Atomic Refractor. It adds a tiled background of small, reflective squares. It's rarity is also a driving force with just one Atomic Refractor per box and 200 in the set.
This card is somewhat overlooked, in large part due to a big brand debut in 1997.
Parallels: Refractors, Atomic Refractors
Buy on: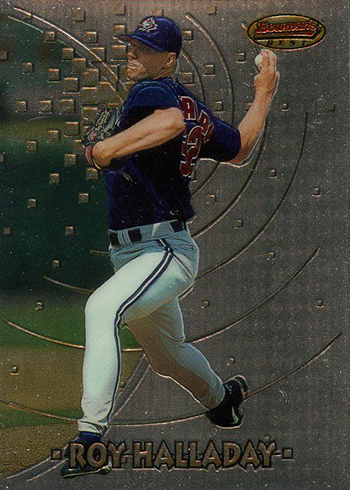 ---
2. 1997 Bowman Roy Halladay RC #308
This is probably the most plentiful Roy Halladay Rookie Card, not that any are especially tough to find in the base form. Included in Series 2 packs, the black borders were a deliberate decision to make top-condition cards a little bit tougher to maintain. The card's lone parallel is a foil International card that has an American flag draped in the background.
Parallels: International
Buy on: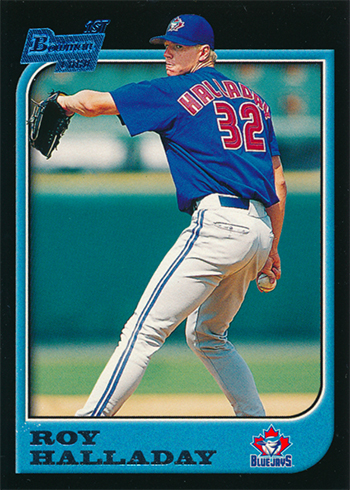 ---
1. 1997 Bowman Chrome Roy Halladay RC #212
Today Bowman Chrome is one of the biggest brands in the hobby. It all goes back to 1997. Over the years, there were several players who took top honors on the checklist. Remember Travis Lee? Kerry Wood also had a run. Now that careers have played out, the 1997 Bowman Chrome Roy Halladay Rookie Card is near the top of that list alongside Adrian Beltre.
Parallels: International, Refractors, International Refractors
Buy on: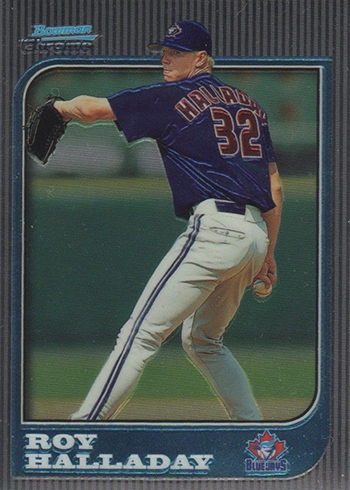 ---
Early Roy Halladay Card Highlights
1995 Best Roy Halladay #125 SP
While Roy Halladay Rookie Cards are found in 1997 sets, his first major cards go back a couple of years. Among them is one from the 1995 Best minor league set. He's part of a subset highlighting top 1995 draft picks. Only available in retail packs, these cards (including Halladay) are considered short prints. That said, it's not an extremely tough card to find.
Buy on: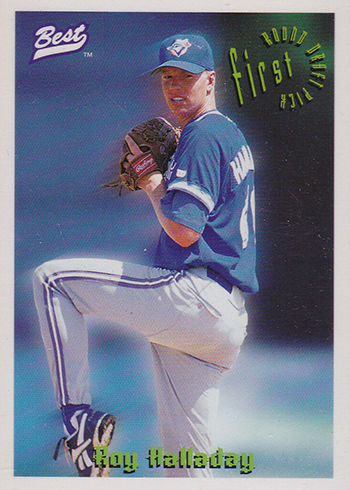 ---
1995 Signature Rookies Tetrad Roy Halladay #72
1995 Signature Rookies Tetrad is a multi-sport release. And while most of the product's attention comes from the plentiful autographs, this is still an extremely early Roy Halladay card.
Buy on: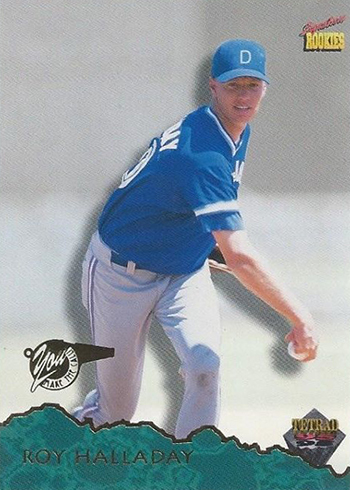 ---
1995 Signature Rookies Tetrad Autographs Roy Halladay #12
Signature Rookies made early autograph history by offering them in bulk. Rather than a scarce chase card, 1995 Tetrad offers them up at a rate of one per pack. That's not strange today but back then it was ground-breaking. But not only are autographs easy to pull, there are a lot of them. The first Roy Halladay autograph card, each comes hand-numbered to 5,000 copies.
The design is virtually the same as the base version with the addition of the gold foil /5,000 on the side.
Buy on: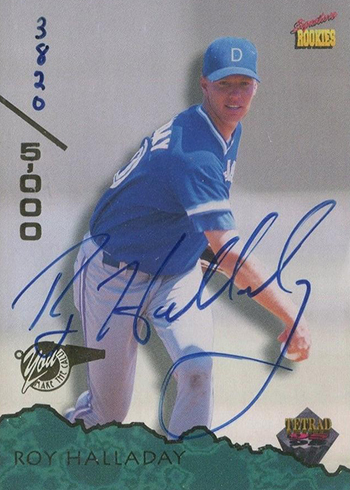 ---
1996 Dunedin Blue Jays Best Roy Halladay
Rather than a larger release, this is part of a 30-card team set put out by Best. Although not the toughest Roy Halladay minor league card to find, it's not overly common either.
Buy on: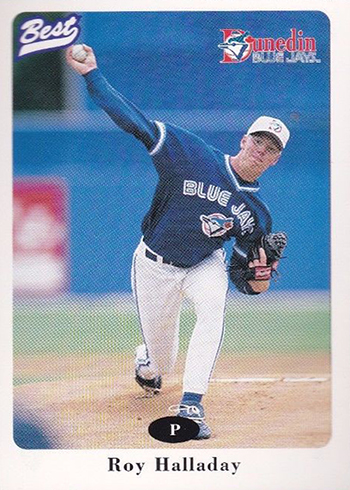 ---
1996 Dunedin Blue Jays Team Issue Roy Halladay
Not an easy card to find, this Roy Halladay was issued by the Dunedin Blue Jays, an A-level team in Toronto's farm system. Aimed primarily at local fans and specialized collectors, wide availability has never been part of this card's pedigree.
Buy on: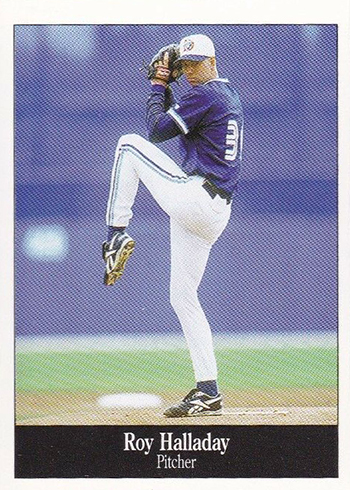 ---
1996 Dunedin Blue Jays Update Team Issue Roy Halladay
Dunedin released another 18 cards later in the year in 1996. And just like Halladay's other team-issue release, this is a tough card to find. While it has the 'Update' name, it does have a different design to go with it.
Buy on: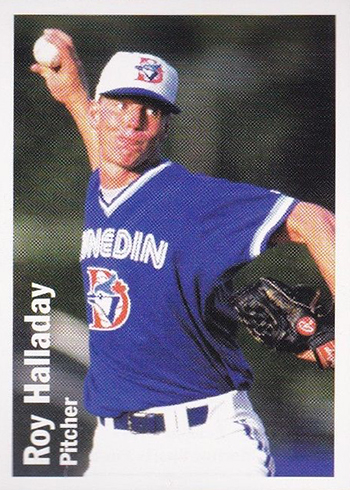 ---
1997 Best Roy Halladay #15
Best did several minor league team sets in 1997. This card, though, comes from a set that's more all-encompassing with 100 players from a mix of teams and franchises. This is one of the more readily available Roy Halladay minor league cards.
Buy on: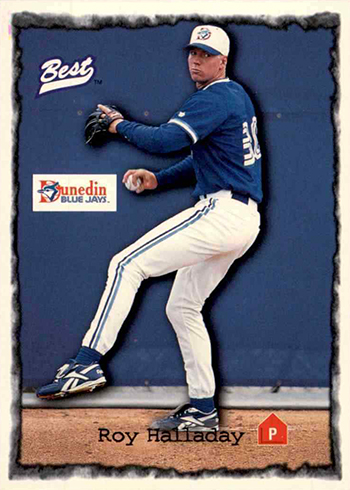 ---
1997 Best Premium Preview Roy Halladay #47 /200
An insert in 1997 Best Autograph Series boxes, its rarity is the driving force. It has just 200 copies and is hand numbered on the back.
Buy on: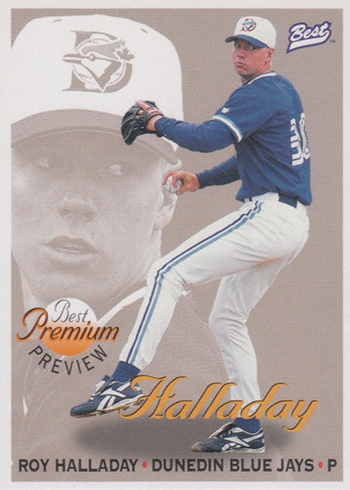 ---
1997 Blue Jays Sizzler Roy Halladay #59
The 1997 Blue Jays Sizzler Roy Halladay is part of a tough, over-size oddball set. Much of the checklist is dedicated to Toronto veterans, but there's a look back on the team's history as well. Halladay comes towards the end of the 60-card checklist among some other young players at the time. The card measures approximately 4 3/4 by 6 3/4 inches.
---
1997 Bowman Certified Autographs Roy Halladay #CA35
The 1997 Bowman Roy Halladay autograph is definitely a cornerstone. It's an insert so it's not a traditional Rookie Card. But it's his first signature in a Toronto uniform and as part of an MLB product. The card can be found with Blue, Black and Gold Ink versions. Gold is rarest and most valuable.
If you're looking for another early Roy Halladay autograph that's a little more affordable, he has similar cards in 1998 Bowman as well.
Buy on: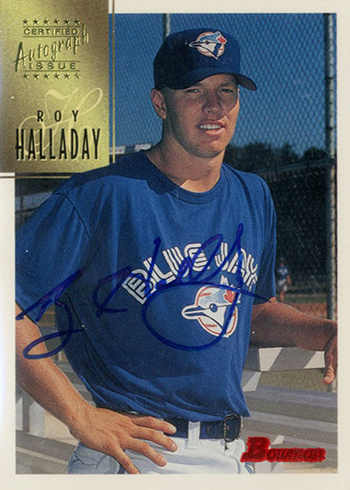 ---
1997 Knoxville Smokies Best Roy Halladay #13
After spending 1996 a A-level baseball, Hallday made a couple of jumps in 1997, including the Double-A Knoxville Smokies. This is part of a 28-card team set from Bet.
Buy on: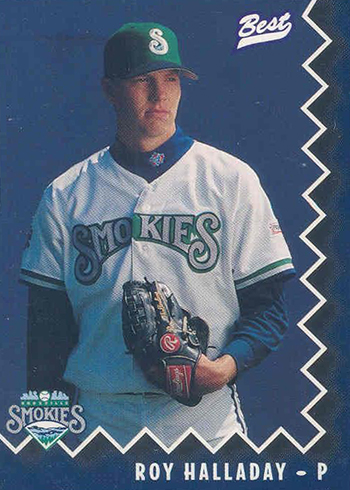 ---
1997 Southern League Top Prospects Best Roy Halladay #19
Not nearly as comprehensive as the main 1997 Best Baseball release, his card is part of a 31-card set highlighting some of the best Double-A players at the time. Halladay joins the likes of Miguel Tejada, Kerry Wood and Ben Grieve on the checklist. And that marble border and font combination. They're something you may never see again, which is probably a good thing.
Buy on: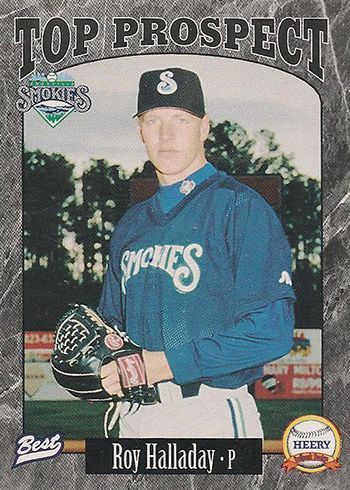 ---
1997 Syracuse Sky Chiefs Best Roy Halladay
One more 1997 Roy Halladay card from Best, this one is part of a Triple-A team set. Like the others, this isn't an overly common card and could require a little searching and patience, particularly if you're not looking to spend a lot.
Buy on: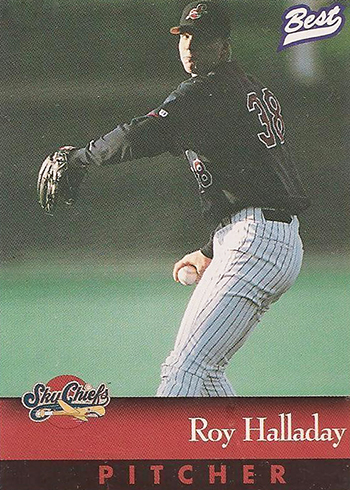 ---