Rousey card could be knockout acquisition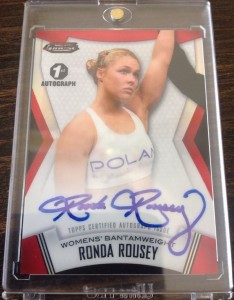 –
By Matt Bible | Beckett Sports Card Monthly Analyst
Even in the card world, Ronda gets a little rowdy.
A seller on eBay is auctioning what could be a record-setter for UFC trading cards — the 2012 Topps Finest UFC Red Refractor Autograph 1/1 of then-UFC rookie fighter, Ronda Rousey.
Yes, just like Rousey, this card is one-of-a-kind. The blue-ink signature is crisp on the card's scarlet trim and the photo shows her hand being raised in victory, as she has no doubt pummeled another fighter. Now, her card is set to pummel the secondary market. As it currently stands, the card has a high bid of $5,900 after 56 bids.
There is a little less than two days remaining in this auction. Could it approach $10,000? That might be a bit of a stretch; however, her career has been anything but that.
Rousey has been nothing short of a phenom during her four-year stint in UFC's women's bantamweight division. The former Olympic medalist is undefeated (10-0) and the world's No.1 fighter in her specific weight class.
Known for her trash talk and quick submission victories, her talents also include acting. She has starred in The Expendables 3, and will star in Entourage and Furious 7. Rousey is set to fight Cat Zingano at UFC 184 on Feb. 28.