Rookie Jordan shoes among SCP auction highlights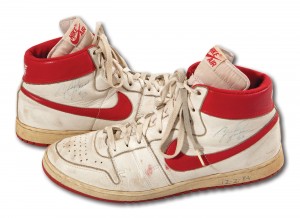 By Stephen Laroche | Beckett Media
It is hard to imagine one of basketball's greatest legends wearing anything on his feet other than his iconic namesake Air Jordan shoes, but early in his rookie season, Michael Jordan wore a different type of sneaker and a game-worn pair is hitting the auction block via SCP Auctions.
Originally obtained from Jordan by a former Los Angeles Lakers ball boy following Chicago's narrow 113-112 road victory on December 2, 1984, these Nike Air Ship shoes were signed after the game and safely stored for 30 years. With bidding already over $7,000 and expected to go higher, a collector is going to need deep pockets to acquire them.
What other game-used sports treasures are up for bids? Find out after the jump.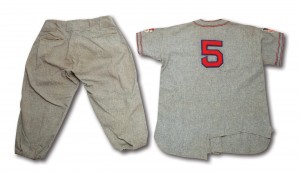 In recent weeks, Beckett has reported on the Tony Gwynn and Ron Woodson collections being a part of this auction, but there are some other intriguing items that may get collectors excited.
Already drawing some serious attention from bidders is a game-worn white home New York Yankees jersey worn by Mickey Mantle during the 1952 season and it was sitting at $66,550 after opening at $50,000. Another strong highlight is the uniform worn by Jimmie Foxx during the 1934 Tour of Japan where American baseball players went overseas to play against a team of Japanese college stars. The jersey itself is the only known Foxx gamer that is unrestored and bidding for the lot has hit $110,000.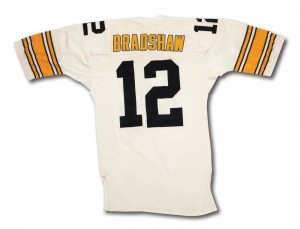 Some solid jerseys that were worn on the gridiron are available as well and they are presently led by one donned by Terry Bradshaw while playing for the Pittsburgh Steelers back in 1977. Modern stars are represented in this auction with gamers from Andrew Luck and Peyton Manning, but a 1980s Chicago Bears jersey from Walter Payton is bound to draw plenty of interest over the next two weeks.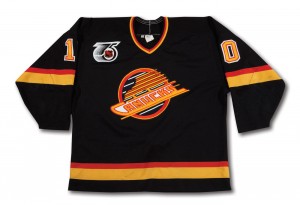 Hockey fans have plenty of game-used jerseys from Hall of Fame players like Pavel Bure, Adam Oates, Mats Sundin and Mark Howe to pick from in addition to those worn by fan favorites such as Felix Potvin, Bob Probert and Curtis Joseph. A Sidney Crosby white road jersey from this season is also on the block and may heat up if the Pittsburgh Penguins can secure a playoff spot.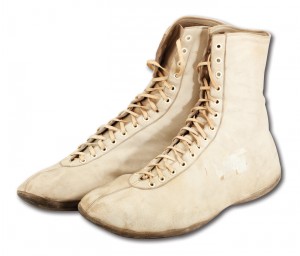 Finally, there are some boxing pieces of note to consider, including a pair of shoes worn in the ring by pioneer pugilist James Jeffries that date back roughly 115 years to when he was the World Heavyweight Champion.
Stephen Laroche is the editor of Beckett Hockey and a contributor to other Beckett Media publications. Have a comment, question or idea? Send an e-mail to him at slaroche@beckett.com. Follow him on Twitter @Stephen_Laroche.