Rookie and celebrity autographs highlight 2015-16 Upper Deck Contours Hockey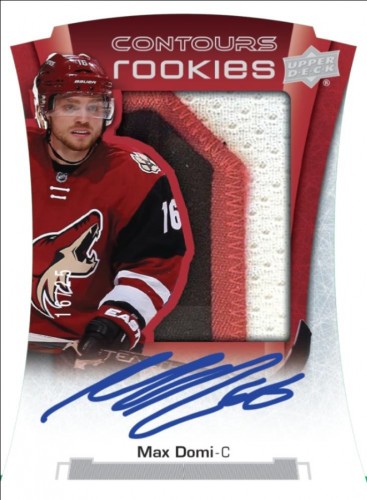 By Stephen Laroche | Beckett Hockey Editor
Upper Deck is adding an all-new release to its lineup this season and 2015-16 Upper Deck Contours Hockey is bound to make a strong impression within the hobby with plenty of die-cuts, colorful patches, and autographs from both hockey players and celebrity fans of the fastest game on ice.
With one autograph or memorabilia card along with one parallel or Rookie Resume card per pack, 2015-16 Upper Deck Contours Hockey is delivering the hits. The presence of a remarkable rookie crop is potentially going to help foster its appeal beyond the traditional hockey card collecting community and there will be some strong pulls from players such as Connor McDavid, Max Domi, Artemi Panarin, Dylan Larkin, and Jack Eichel.

Base Set
At first glance, the base set for 2015-16 Upper Deck Contours Hockey appears to be a standard 100-card affair, but it will be augmented by a Rookie Resume subset where each card is limited to just 399 copies. Each of the regular cards has three different parallels with Blue (/499) being the easiest to find while Red and Gold are numbered to 99 and 10 respectively. Rookie Resume also has a parallel out of 99 and the autographed version of these cards shows up once in every two boxes on average (1:8 packs).

Memorabilia
Celebrity content will certainly be a key driver for sales of 2015-16 Upper Deck Contours Hockey and the lineuo includes such notable hockey fans as former World Wrestling Entertainment champions CM Punk and Bret Hart, Rachel Nichols, Lindsey Vonn, Kevin Harvick, Tom Glavine (who was drafted by the Los Angeles Kings), Larry King, and Kevin Smith.
The first collection of celebrity-themed cards in this product are called High Profile Fans and there are four levels to discover which include Jersey (1:41), Patch (/65), Auto Jersey (/199 or less), and Auto Patch (/25). Fanatics Jersey (1:144) offer some celebrity-worn memorabilia pieces and this set has a patch version numbered to 65. Team Fanatics Autograph cards are even tougher with jersey (/50) and patch (/10) editions to seek out.
For those that would rather have memorabilia pieces from NHL players, there is some strong content to potentially pull from packs. The most common will be Club Crest jersey cards (1:7, patch /75) and Show Me Some Glove, which is advertised as a jersey card in promotional materials, comes once in every 12 packs with a patch that is numbered to 20. Jumbo Fabrics is slightly tougher to get (1:15) and the patch parallel (/10) could be a winner, but the chase will be just as intense for the Rookie Jumbo Jersey Fabrics (1:8) and Rookie Jumbo Patch Fabrics (/10).
This season's crop of new talent gets even heavier play within 2015-16 Upper Deck Contours Hockey with Rookie Jersey and Rookie Autographed Jersey (both /199) in addition to Patch versions that are numbered to 35. These cards could be among the biggest draws for this release due to strong visual appeal.

Autographs
Rookie Autographs will be rather plentiful in 2015-16 Upper Deck Contours Hockey and the new generation of prospects will appear on cards numbered to 499. Several base set cards have a Gold Autograph parallel (10) and additional signed content that can also be found in packs includes three tiers of Youth Movement Autographs which are limited to either 49, 249, or 399.
2015-16 Upper Deck Contours Hockey at a glance:
Packs per box: 4
Cards per pack: 5
Boxes per case: 16 (8 per inner shipper)
Set size: 100 base cards plus Rookie subset cards
Release date: March 31, 2016
What to expect in a hobby box:
– Four autograph or memorabilia cards per box
– Four parallel or Rookie Resume cards per box
Stephen Laroche is the editor of Beckett Hockey, Beckett Basketball, and Beckett Sports Card Monthly magazines. Have a comment, question or idea? Send an e-mail to him at slaroche@beckett.com or follow him on = Twitter @Stephen_Laroche.