Ronda Rousey Conquers Topps Now WWE – Beckett Pricing Insider
Topps Now WWE has a "Rowdy" new face.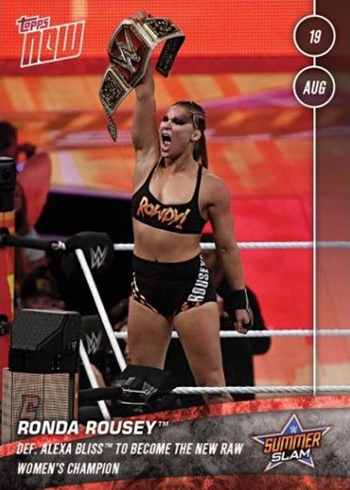 Last Sunday, at WWE's annual SummerSlam PPV, Ronda Rousey made quick work of Alexa Bliss to capture the WWE RAW Women's Championship. In doing so, she also overtook Bliss' dominance in the Topps Now WWE card market.
In comparing the two superstars, Rousey has only had two base Topps Now WWE cards thus far while Alexa has ten. However, Ronda's cards have generated the top two print runs for the line thus far.
And it isn't even close.
Ronda's total print run is 2,312 for an average of 1,156 per card. Bliss' total print run of 2,070 spread over ten card makes for an average of 207 copies per card.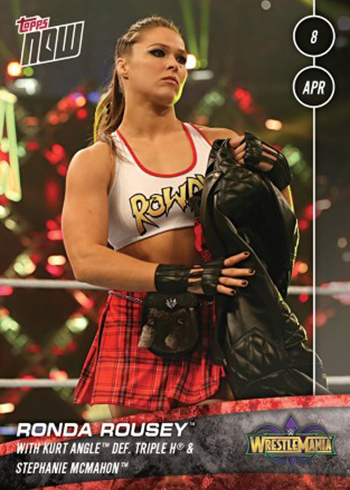 Card #30, which chronicled Ronda's debut at WrestleMania, has the highest print run at 1,342. Card #49 highlights her victory over Bliss and it sold 970 copies.
But that's only the beginning. Rousey also has two mat relic cards from each event. Base versions are serial numbered to 25 while Gold parallels for each are one-of-ones. The WrestleMania mat relic (#30A) is currently sitting at $250-$400 while the relic marking her championship victory (#49A) goes for a staggering $350-$500 (although it's still early and the market may still be establishing itself). Alexa Bliss has no Topps Now WWE relic cards for comparison.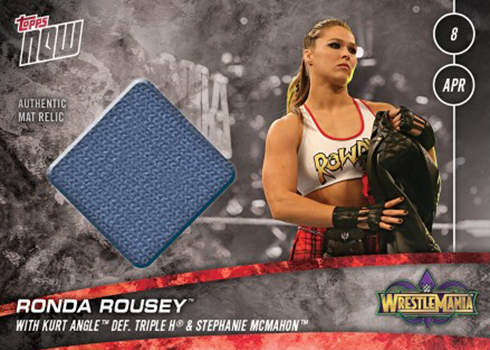 Ronda Rousey now maintains a Secretariat-like lead atop the Topps Now WWE sales chart.  Much like her UFC and WWE careers, she's doing it in dominating fashion.