Ronald Acuna Jr. Stock Is High, Could Go Higher In Postseason
Ronald Acuna Jr. has been a hobby darling since before he debuted in the 2018 season.
The outfielder's play as lived up to the hype, too. As a rookie, Acuna hit 26 home runs and was an easy choice for National League Rookie of the Year.
No Slump
Acuna followed it up in 2019 by crushing 41 home runs and stealing 37 passes. He likely would have gotten the three swipes to have a 40-40 season, but he missed games for rest/recovery before the postseason started.
"Already one of the hottest players on the market throughout the season, Ronald Acuna's value really picked up late in the season as he attempted to become the youngest player to hit 40 home runs and have 40 stolen bases in a season," said Sam Zimmer, Beckett Senior Market Analyst.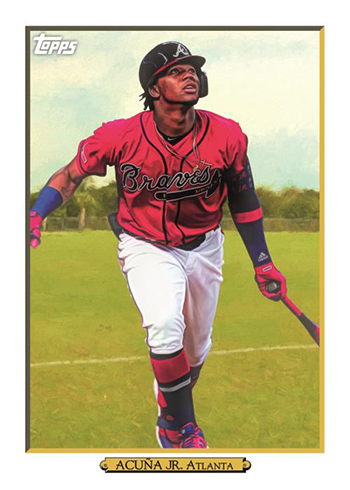 "While he ultimately fell short on the stolen base total, he still finished with a league leading 37 stolen bases alongside his 41 homers. Leading his Atlanta Braves into the 2019 postseason, Acuna is one of the brightest young stars in the game and with that, the demand for his cards remains high."
Relief pitcher Shane Greene was traded from the Tigers to the Braves at the 2019 Trade Deadline. He observed
Acuna over the course of six games, or about a week, and realized what is becoming an increasing popular opinion.
"That's the best player who's ever lived," Greene said, per ESPN.
More Spotlight
Although there are critiques of Acuna's celebratory style, there are not many naysayers about Acuna's potential. He is still only 21 years old and is in his second year as face of the franchise. After partaking in the Midsummer Classic for the first time in 2019, he is a sure thing to be a perennial All-Star. He could soon be the face of baseball.
The Braves play their first postseason game Thursday at 4 p.m. CT. They face the Cardinals in a best-of-five series. Acuna will be the focus of the entire series, which means his already mile-high stock could further skyrocket.
"Leading his Atlanta Braves into the 2019 postseason, Acuna is one of the brightest young stars in the game and with that, the demand for his cards remains high," Zimmer said. "If he is able to continue to put up the numbers he did in the regular season in the playoffs, his value is sure to sustain, if not increase. We know that the potential is there, and the demand should remain as long as he can continue to show us that he can live up to the hype."