Rod Woodson's rings, jerseys to hit auction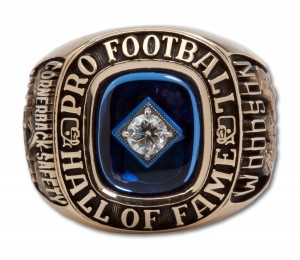 NFL Hall of Fame defensive back Rod Woodson was a six-time First-Team All Pro and ranked third all-time with 71 interceptions. Now, some of the legend's top memorabilia is hitting the auction block in April. SCP Auctions will offer, among other pieces, Woodson's AFC Championship rings as well as game-used jerseys from Steelers, Ravens and Raiders.
The auction will open April 8 at www.scpauctions.com and runs though April 25. Nearly 70 lots of Woodson's most-prominent items include dozens of game balls from his college career at Purdue, various MVP awards and his NFL 75th Anniversary All-Time Team trophy which he was awarded in 1994.
"I was blessed with a long career in the NFL," said Woodson, who now serves as assistant defensive backs coach for the Raiders, "and I was able to acquire quite a few mementos from my playing days. Now I feel good about consigning with SCP Auctions and sharing these with passionate football fans and collectors who would be interested in adding them to their collections."
As a first-round NFL Draft pick in 1987, Woodson amassed more than 1,000 tackles, and he returned 12 of his 71 interceptions for touchdowns. He played 17 years and was effective even in his mid to late-30s, making the Pro Bowl four of his final five years.
"To say we are ecstatic to have Rod's collection would be an understatement," said SCP Auctions President David Kohler. "As hard-hitting and prolific a player as Rod was on the field, he's genuinely a very nice guy off it. He's been a pleasure to work with."