We're counting down the hours until the NFL Draft on Saturday and noticed this war of words waged in an AP story. The foes? Joe Laurinaitis (aka former pro wrestler Road Warrior Animal) and ESPN's Mel Kiper Jr. From the story…
Ohio State linebacker James Laurinaitis' father, Joe, hasn't contacted Kiper. But he thought about doing so after Kiper's rating dropped for James, a two-time AP All-American.
"One day, you're the next-best thing since skim milk. The next day, you're supposed to go" low in the first round, Joe Laurinaitis said. "What did he do to fall off the grid? … The question is: OK, where has [Kiper] played? Where has he coached? What makes him a so-called 'guru'?"
We here at Beckett Media really don't care who anointed Kiper a guru, but we are all about seeing who wins the battle via this tale of the tape. Check it out …
Road Warrior Animal
Height: 6-1 Weight: 285
vs.
Mel Kiper Jr.
Height: Depends on type of hair day. Weight: Depends on brand of gel.
One-half of the most bruising and intimidating tag teams of all time, the Legion of Doom, a team that "snacked on danger and dined on death."
One-line
career
summary
Worked his way out of his parents' basement producing NFL Draft scouting reports en route to becoming an ESPN mainstay.
… which were covered with iron spikes on a nightly basis.
Donned football
pads …
… um … perhaps for an ESPN commercial once?
Bouncer before becoming a wrestling champion who took on many legendary foes before worldwide pay-per-view and cable  audiences.
Pre-stardom gig?

Published NFL scouting publications for three years before taking on ESPN's worldwide cable audiences.
Father of star Buckeyes star linebacker James.
Also on sports resume
Fan of the Baltimore Ravens; voice-over work for ESPN video game.
Meh. He was the muscle and let manager "Precious" Paul Ellering and Hawk talk.
How handy with the microphone?

Very handy. It's what he's known for. (Well, other than the hair … )
The Four Horsemen, The Midnight Express, The Koloffs, Dusty Rhodes, The Fabulous Freebirds, Money, Inc.
Legendary feuds

Indianapolis Colts official Bill Tobin, ESPN's Todd McShay as well as players, parents, coaches and fans everywhere. (Oh, and that pesky wind, too.)
Appears on 21 cards.
(And has more than a few action figures, too.)
Beckett.com trading card statistics
Appears on five cards. (No action figures, though. How did ESPN flub that marketing opportunity? Three words: Kiper Voodoo Doll.)
100 "Road Warrior Animal" items currently for sale (3,000 or so for "Road Warriors" — though we're sure Mel Gibson helped).
eBay stat
10 items
currently for sale.
Autographed magazine page, $174.99 (Buy It Now).
eBay highlight
Eight copies of his 2004 Playoff Honors Fans of the Game autograph card, ranging from $.99 to $80 (Buy it Now).
A few — including all of his 1988 Wonderama NWA cards — but not the one that matters. (That's his 2006 Topps WWE Insider autograph.)
Cards
in my
collection?
Maybe one somewhere — but not the one that matters. (His 2004 Playoff autograph card.)
None sold in the last month on eBay (but we'd pay $10).
Best
card last sold for …

$4.25 (And "The Viper" version is more sought-after.)
High — and that's just because of the face paint, leather and spikes. (You really don't wanna see him in the ring.)
Intimidation factor
As low as it gets. (We don't care if he signs some of his cards as "The Viper.")
Road Warrior Hawk (with Paul Ellering), Droz, Heidenreich, Sunny, Christy Hemme & more …

Known Associates

Chris Berman (with leather), John Clayton, Chris Mortensen, Erin Andrews, Suzy Kolber & more …
His wife is a former bodybuilder.
Wikipedia says …

He resides in Jarrettsville, Md., with his dog.
Scaffold matches and Tower of Doom matches
Took things to new heights with …

A single hairbrush.
Not to be confused with …
AWA, NWA and WWE tag team champs; Pro Wrestling Illustrated Tag Team of Year four times; No. 1 tag team of the PWI years.
Awards
Um … try here?
No-nonsense Mohawk
Final straw: Hair vs. hair

Pompadour meets a bouffant (with maybe a little Trump).
It's Animal
(by more than a hair)
The winner?

Before you go, try these memorable clips: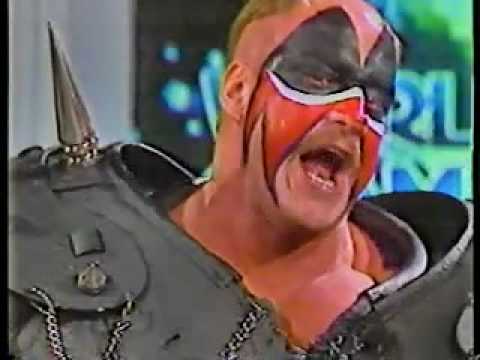 Chris Olds has collected sports cards and memorabilia since 1987. Before coming to Beckett Media, he wrote about the hobby for the Orlando Sentinel on his blog, SportsStuff, and for the San Antonio Express-News and The Tuscaloosa (Ala.) News. Do you have a comment, question or idea? Send e-mail to him at colds@beckett.com.