Road to Rise of Skywalker: Big Recent Star Wars Card Sales – Beckett Pricing Insider
Now that Avengers: Endgame has been released and everyone on Earth has obviously seen it, it's time to look forward to December and the next Star Wars film.
While Disney has other potential blockbusters coming out, the final episode in the Skywalker Saga is looking to cap off one of the biggest years for movies in recent memory.
Star Wars has always been a juggernaut in the collectibles market and there is no reason to think that will end with Episode IX. Many collectors are anxiously anticipating big trading card and action figure releases for the year.
Some of the most recent Topps trading card releases have been online exclusives, such as Star Wars Galactic Moments Countdown to Episode 9, Topps On-Demand Women of Star Wars, Topps On-Demand Phantom Menace 20th Anniversary, and 2019 Star Wars The Rise of Skywalker Trailer.
Collectors can also expect Funko to make its mark with Star Wars. Two weeks ago at Star Wars Celebration in Chicago they released special blue chrome exclusives of Darth Vader, Princess Leia, Boba Fett, Yoda, Chewbacca, and a Stormtrooper. They also offered a retail-exclusive gold chrome parallel of those same figures which were available at various stores across the country.
Needless to say, it's going to be another monumental year for Star Wars. In fact, it's already been a monumental year in collectible sales. Here are a few of the recent key sales that reflect characters from the Rise of Skywalker teaser trailer:
2018 Topps Star Wars Stellar Signatures Red 1/1 #AADR Adam Driver – $425
You can't have a good hero without a good villain as Adam Driver's Kylo Ren is the yang to Rey's yin. His autographs command top dollar especially when they are one-of-a-kind.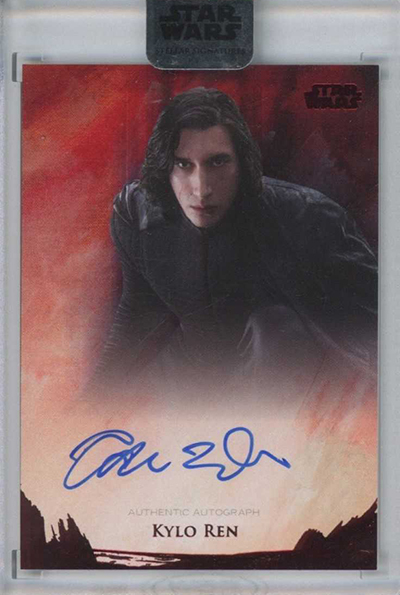 2017 Topps Star Wars 1978 Sugar Free Wrappers Set Autographs Gold /5 Ian McDiarmid – $350
A collective chill went down the spine of millions of fans with the Emperor Palpatine reveal in the Rise of Skywalker teaser trailer. Equally spine-tingling is the rarity these autographs of Ian McDiarmid.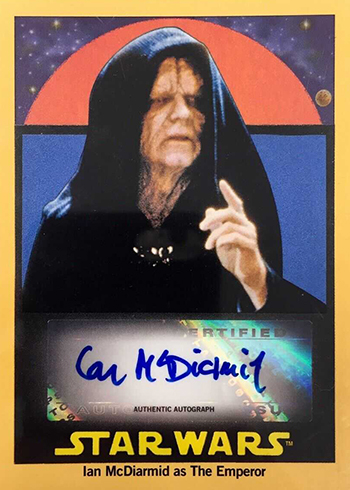 2017 Topps Star Wars The Last Jedi Series One Sketch Cards Kris Penix AP Rey – $300
Daisy Ridley's Rey has become one of the most iconic characters in Star Wars film lore with her signatures and sketch cards going for mad cash. Here she is beautifully captured on this artist proof sketch by artist Kris Penix.