Rittenhouse shows off NCIS sigs at Non-Sports Show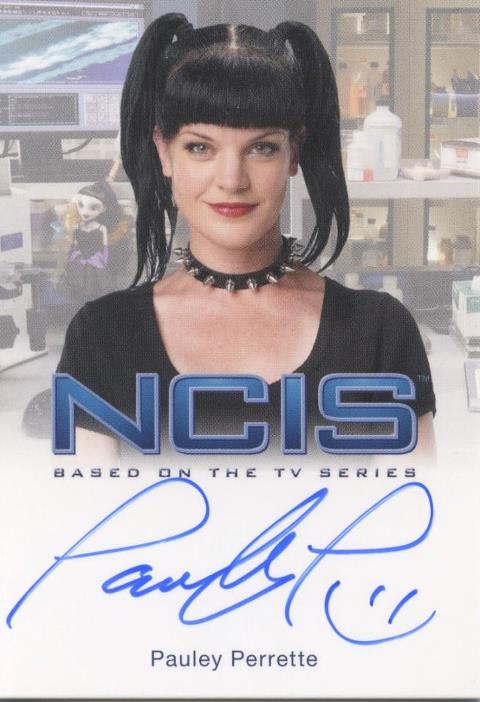 By Susan Lulgjuraj | Contributing Editor
ALLENTOWN, Pa. | NCIS is one of the country's most popular television shows. The military crime fighters are coming to trading cards this June.
Rittenhouse Archives is producing a card set that will capture the first 72 episodes in NCIS's history.
At the Philly Non-Sports Card Show, Rittenhouse displayed many of the autographs that will be found in the product, which includes many fan favorites.
From the main cast Pauley Perrette (Abby), Rocky Carroll (Leon Vance) and Brian Deitzen (Jimmy Palmer) have autographs cards – including former cast member Lauren Holly – but relic cards will be featured from all of the main stars, including Mark Harmon (Leroy Jethro Gibbs), Michael Weatherly (Anthony DiNozzo) and Cote de Pablo (Ziva David).
One of the notable autographs cards is legendary actor Bob Newhart. A Rittenhouse employee confirmed his and Perrette's cards will be harder to get than the others.
Rittenhouse is selling the product as premium packs, which cost $50 each. There will be one autograph and two relic cards per pack.
The company is offering incentives to buying more than one box (which costs $750). Two boxes will get a Rocky Carroll autograph/relic, four boxes will yield a Pauley Perrette autograph relics and eight boxes will get a premium pack archive box and complete master set of all pack-inserted cards.
Here's a gallery taken on site of the Non-Sports Card Show of the autograph cards.
Keep checking back for more information from this weekend's card show.
Here are confirmed autographs in the set:
・ Pauley Perrette  (Abby Sciuto)
・ Lauren Holly (NCIS Director Jenny Shepard)
・ Rocky Carroll (NCIS Director Leon Vance)
・ Brian Dietzen (Jimmy Palmer)
・ Cheryl Ladd (Mary Courtney)
・ Bob Newhart (Dr. Walter Magnus)
・ Charles Durning (Ernie Yost)
・ Mcihael Nouri (Massad Director Eli David)
・ Sean Harmon (Young Leroy Jethro Gibbs)
・ Scottie Thompson (Jeanne Benoit)
・ Sarah Jane Morris (Special Agent Barrett)
・ Jessica Steen  (Paula Cassidy)
・ Rena Sofer (Margaret Hart)
・ Pancho Demmings (Gerald Jackson)
Susan Lulgjuraj is a contributing editor for Beckett Media. You can email Susan here. Follow her on Twitter here.