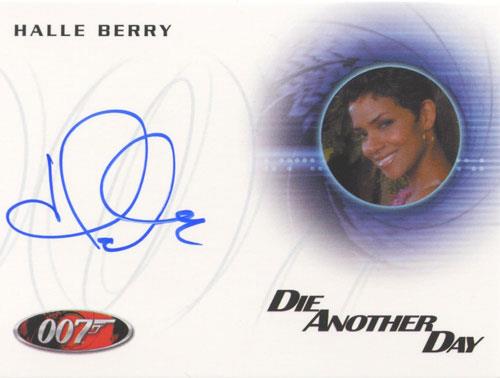 By Susan Lulgjuraj | Beckett Sports Card Monthly Editor
It took nearly 10 years, but Halle Berry has signed autograph cards for an upcoming James Bond product.
Rittenhouse Archives released a photo today of the Oscar-winning actor's first certified autograph in a trading card product. The autograph will be in James Bond The 50th Anniversary Trading Cards Series 2.
"It has been my goal since we launched our first line of James Bond trading cards back in 2002 to have every living actor sign cards for us," Rittenhouse President Steve Charendoff told Beckett Media. "To date, we have had nearly 250 different actors from all 22 classic 007 films sign cards for us."
Charendoff said the newest Bond girl Berenice Marlohe in Skyfall – which comes out in November – has already agreed to sign for Rittenhouse, and the company will only pursue more actors.
One notable actor missing from Bond products is Sean Connery, the original James Bond. But that's not for a lack of trying.
"Of course, we would be thrilled to have Sean Connery sign cards for us, too, and we continue to make efforts for that to happen," Charendoff said. "It took us 10 years before we were able to convince Halle Berry to participate, and nearly that long for Pierce Brosnan, so we never say never (pardon the pun)."
James Bond The 50th Anniversary Trading Cards Series 2 is scheduled to be released Nov. 7. It features a 99-card base set and autographs from actors such as Daniel Craig, Roger Moore, Sean Bean and John Rhys–Davis.
"The Bond movies have a very special place in the history of world pop culture," Charendoff said. "It's the longest running film franchise in history, and I think as time passes, the actors who have been privileged to be part of it sense the importance of it, too. As a result, I believe that most of the Bond actors feel the importance of being a part of our trading card projects, which pay great tribute to the James Bond films."
Susan Lulgjuraj is the editor of Beckett Sports Card Monthly. You can email her here with questions, comments or ideas. Follow her on Twitter here.