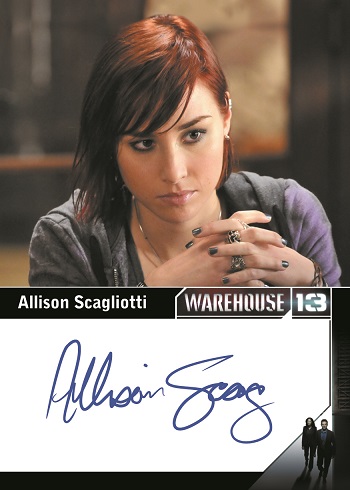 By Susan Lulgjuraj | Beckett Sports Card Monthly Editor
The newest season of Warehouse 13 is here – right in time with the announcement of the newest set of cards for the SyFy television show.
Rittenhouse Archives' Warehouse 13 Season 4 Episodes 1 thru 10 will release on June 19. The premium packs will contain one autograph or autograph relic card, two relic cards, two episode cards and one Of Monsters and Men or Grand Design chase cards.
The show depicts a group of secret federal agents who crisscross the globe looking for enchanted artifacts, and then lock them up so they can do no harm. Warehouse 13 adds comedy and suspense to the popular cable show.
The autograph cards include a couple of the main stars such as Joanne Kelly (Myka Bering) and Allison Scagliotti (Claudia). Other actors include CCH Pounder (Mrs. Frederic), Jeri Ryan (Amanda Lattimer), Genelle Williams (Leena) and Brent Spiner (Brother Adrian).
Episode cards feature two cards per episode.
Those purchasing boxes of Warehouse 13 will get incentive cards from Rittenhouse:
-Two boxes: Eddie McClintock (Pete Lattimer) relic card
-Four boxes: Jeri Ryan autograph/relic card
-Eight boxes: Warehouse 13 Season Four Premium Pack Archive Box, including a master set.
Susan Lulgjuraj is an editor of Beckett Sports Card Monthly. You can email her here with questions, comments or ideas. Follow her on Twitter here. Follow Beckett Media on Facebook and Twitter.