2013 Rittenhouse Star Trek Movies Trading Card Collectors Set Details
The newest Star Trek movie comes out this weekend, and the newest Star Trek trading card set comes out next month.
Rittenhouse Archives is creating a product with few cards and a high price point, but delivering exactly what every collector wants out of a box – autograph relic cards of Chris Pine (Captain Kirk) and Zachary Quinto (Spock).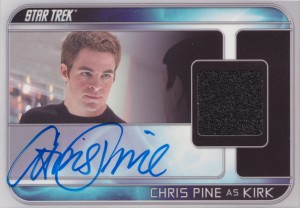 The price point for 2013 Star Trek Movies Trading Card Collectors Set sits at $749.99. In addition to the autograph relic cards, Rittenhouse will include nine Star Trek Into the Darkness Preview cards.
Just 250 sets will be made for the set scheduled to come out June 19.
This product is a holdover until late this year or early next when Rittenhouse will create movie cards based on the 2009 and upcoming movies. That set will include autograph cards, Starfleet uniform relic cards of all of the main bridge crew, pin cards and more.
Pine's and Quinto's autographs sell for a hundred of dollars when they hit the secondary market. Pine's autographs from the 2009 set have a high Beckett book value of $450. Quinto's Star Trek has a high Beckett of value of $150. He also has an autograph from the 2008 Heroes Series One set.