Rising Star: Collecting Hailee Steinfeld Cards – Beckett Pricing Insider
Like Millie Bobby Brown, Hailee Steinfeld is another young Hollywood star who has a bright future ahead of her. And she already has more than a decade of TV and films to her credit. Her first major role was in 2010's True Grit remake and she has had supporting roles in such films as Ender's Game and both of the Pitch Perfect sequels. Steinfeld also has multiple songs that have cracked the Billboard Top 40.
Steinfeld's star is continuing to rise with major roles in both Bumblebee and Spider-Man: Into the Spider-Verse. Collectively, the films look to gross a substantial amount of money at the end of their box office runs.
Granted, box office success doesn't always translate to the card market. However, Steinfeld's cards have been picking up steam in recent weeks. The bad news is she only has cards in 2014 Cryptozoic Ender's Game. The good news is that she has an autograph. If it weren't for Harrison Ford, she'd have the most valuable signature in the set. Her autograph, #A3, is currently priced at a solid $100-$200 range.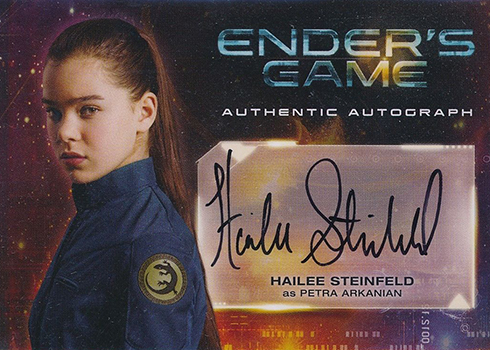 Hailee also has three costume cards in the product, each priced in the $15-$40 range.