Yu-Gi-Oh Market Watch: Rise of the Blue-Eyes White Dragon
Back in 2002, Yu-Gi-Oh took both the trading card game and animes world by storm. The franchise rivalled many popular titles at that time such as Pokemon and Magic: The Gathering.
Today Yu-Gi-Oh continues to establish itself as one of the major TCG's throughout the world. And as of the fans and players of of old begin to mature, many cards from the original sets are starting to see price spikes similar to how Magic: The Gathering and Pokemon have seen in the last few years.
Leading that charge is none other than the Blue-Eyes White Dragon. Blue-Eyes was ingrained into the hearts of many young fans when it made its presence felt as one of the most powerful monsters in Yu-Gi-Oh's first episode. As a card, it was highly coveted in the first booster series The Legend of Blue Eyes White Dragon and Starter Deck Kaiba.
Blue-Eyes White Dragon: First Edition vs. Starter Deck Kaiba
In recent months both versions of Blue-Eyes White have started to see drastic jumps in price, some doubling in value overnight. Specifically, Gem Mint first edition copies are seeing the biggest spikes.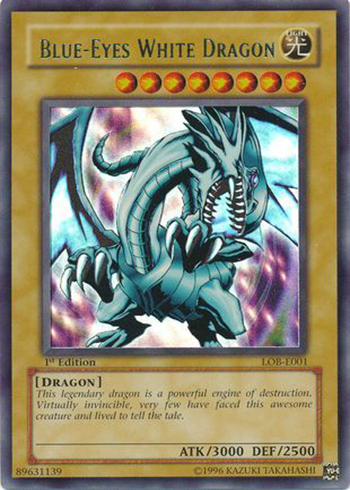 Currently the pack version of Blue-Eyes is reaching prices of over $5,000. Although not as high, the starter deck version has begun to hit over $1,500.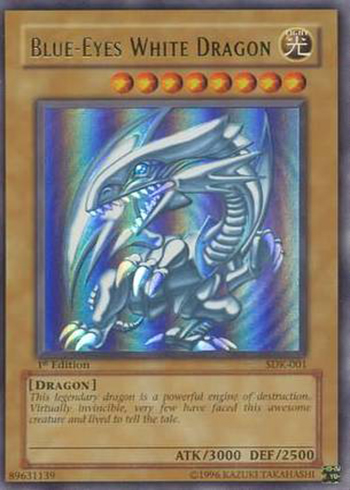 As the market continues to adapt, it will be interesting to see if the starter deck version begins to gain more ground on the pack version, as it sports the original anime artwork that fans have come to know and love. It also has a lower population of Gem Mints out there.
Whichever version you prefer now would be a good time to get in on either of these cards, as there seems to be no slowing down on the demand for original Yu-Gi-Oh cards.