The Rise and Fall and Rise of the 2005 Bowman Chrome Matt Kemp Autograph – Beckett Pricing Insider
I would venture to say that few predicted Matt Kemp would be starting in the 2018 MLB All Star Game. Or that his 2005 Bowman Chrome rookie autograph would rebound like it has.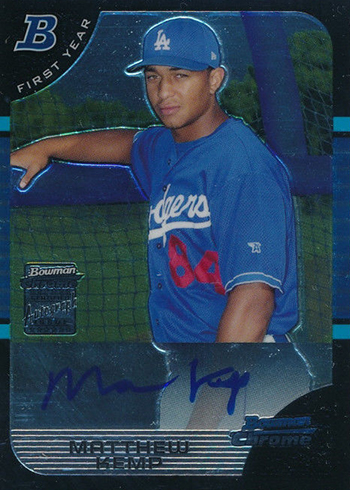 Back in 2011, Kemp led the league in WAR (Wins Above Replacement) and was the runner-up for the NL MVP. He was o.13 batting points away from the Triple Crown.
Kemp followed that up with a good start in 2012, but towards the end of the season the injury bug hit and his struggles began. Injuries caused him to miss half of 2013 and he struggled in 2014.
After 2014, the Dodgers were stuck with a surplus outfielders and needed to address some other positions. Yasiel Puig and Joc Pederson seen as the future of the franchise. Veterans Andre Either and Carl Crawford were declining and would not bring back any value in a trade. This made Kemp the odd man out and was sent to the Padres.
After a year and a half, San Diego decided he hadn't lived up to their expectations and Kemp was traded again, this time to the Braves. Another year and a half later, including a bad second half of 2017, and he was traded back to the Dodgers.
It was perceived by most that this was a merely a money move by Los Angeles. Even they might admit that. No matter what, Kemp was not expected to have much of an impact.
Boy, did he surprise. Knowing the situation going into to Spring Training, Kemp showed up to camp on a mission. He just wanted an opportunity and the Dodgers gave him one. With a .318/.354/.577 slash line, 15 HRs and 55 RBI, Kemp has definitely earned it.
When looking at Kemp's cards throughout his career, his 2005 Bowman Chrome stands out. As his only first-year autograph, it's arguably his most important card.
Its value has increased with his recent surge but it can still be had for a fraction of what it went for when he was in his prime.
When first released, you could get the 2008 Bowman Chrome Matt Kemp autograph for $20. Sales would gradually increase to $40 by the end of 2005 and then $80 by mid-2006.
A year later prices were back down in the $40-$60 range and this is pretty much where prices stayed until 2011.
That's when prices jumped to $100 during the season and again to the $150-$250 range at the start of 2012. After he was injured prices dropped back down to $100 by the end of the year.
Prices then began to gradually decrease $10-$20 each year until Spring Training, 2018, when sales were all the way down to $15-$20.
Coinciding with his success, prices are rising again, with recent sales going for $40-$60. If Kemp continues to play at this level, I would expect prices to follow. That said, I doubt sales will ever reach the level they did six years ago. But then again, the last time Kemp was in the All-Star Game was six years ago.