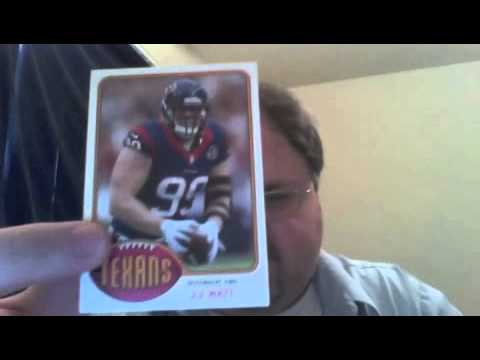 Join Beckett Media's Chris Olds as he rips into 2013 Topps Archives a week before its hobby release date in this latest Ripping Retail video.
What will he find inside? Watch and find out … and don't hold him to the details of some years' designs! (He's not the football guru … yes, he got some years wrong.)
See the First Look for the product here.
Find the 2013 Topps Archives checklist (when it's in the database) here.
Some retail odds for this one … since it's early  … after the jump.

Short-print — 1:4
Base variation — 1:692
Gold parallel — 1:12
Gold parallel SP — 1:48
Gold parallel variation — 1:1,384
1970 Topps Glossy — 1:6
1,000-yard Club — 1:8
1968 Topps Stand-up — 1:12
1981 Topps Super Action — 1:100
Mayo — 1:24
Originals — 1:6,922
Vault redemption — 1:34,611
Uncut sheet redemption — 1:13,844
Fan Favorites auto — 1:64
Relic — 1:40
Auto mini helmet redemption — 1:69,211
Auto USFL buyback — 1:13,844
Celeb cut sig — 1:13,844
Touched bu greatness auto redemption — 1:13,844
Super Action auto — 1:2,895
Mayo auto — 1:2,895
2013 NFL Rookie auto redemption — 1:2,769