Update: Ricky Williams' 1998 Heisman Sold at Auction For Record Price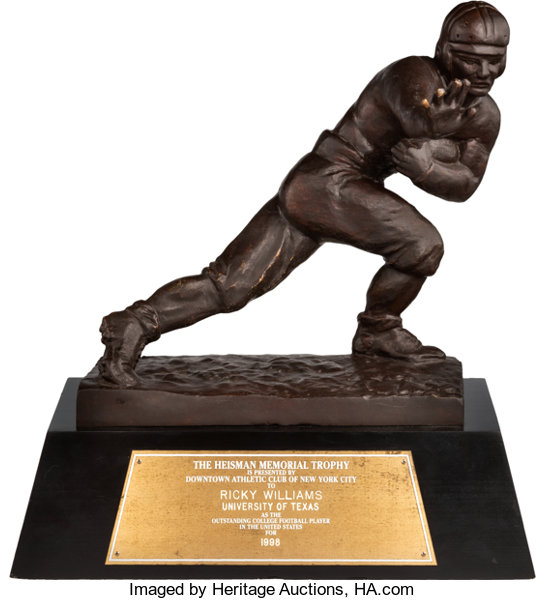 Update: The trophy sold for $504,000. It's a record price for the Heisman Trophy, per Heritage. The previous record was held by Tim Brown's 1987 Heisman Trophy sold by Goldin Auctions for $435,763 in December 2018. 
The Heisman Trophy awarded to the Texas Longhorns' Ricky Williams in 1998 is expected to bring close to a half-million dollars in Heritage Auctions' October 17-18 Memorabilia Catalog Auction next month.
"The Heisman Trophy is certainly one of the most iconic and recognizable pieces of hardware in sports," Chris Ivy, Heritage Auctions' Director of Sports Collectibles, told Beckett.com. "Given the significance of Ricky's record-breaking performance that year, we expect this trophy to set a [market] record."
In 1998, Williams broke Tony Dorsett's NCAA career rushing record that had stood for 22 years.
Record Sales
According to Heritage, this is just the second Heisman Trophy the firm has played a role in selling, indicating how infrequently players and family members give them up for auction.
Heritage brokered the sale of Clint Frank's 1937 Heisman Trophy in 2018, which sold for $312,000. Frank had won the award while a running back and safety at Yale.
The previous record sale of a Heisman Trophy also came in 2018, when Tim Brown's 1987 award earned while at Notre Dame was sold by Goldin Auctions for $435,763. Before that, the 1994 Heisman Trophy of Rashaan Salaam from Colorado fetched $399,608 in a January 2018 sale by SCP Auctions.
Heritage also notes that "the Touchdown Club required every honoree from 1999 forward to sign a waiver forfeiting the right to sell his Heisman, establishing this example as the very last to be free of that encumbrance, and finalizing the potential supply available to the public."
Earning the Hardware
Williams received the Heisman Trophy after rushing for 2,124 yards (5.9 yard average) and 27 touchdowns. Williams received a whopping 714 first-place votes in balloting, while runner-up Kansas State quarterback Michael Bishop received 41 first-place votes and third-place UCLA quarterback Cade McNown received 28.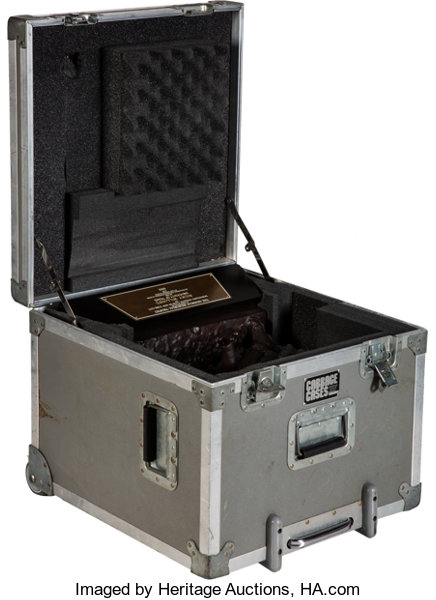 Heritage says the 37-pound Heisman Trophy (37 pounds!) will be delivered in its custom heavy-duty metal carrying case with a signed letter of provenance from Williams himself.
In addition to the Heisman, the auction also included Williams' Walter Camp and Doak Walker awards from the same year.