RGIII, Tim Tebow, Cam Newton featured in newest McFarlane release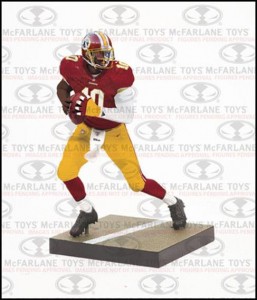 By Susan Lulgjuraj | Contributing Editor
McFarlane Toys announced SportsPicks NFL Series 31 will feature some of the biggest current stars.
This grouping includes last season's Offensive Rookie of the Year, a Super Bowl champion and one of the most exciting draft picks. In all, seven players are coming to McFarlane Toys with new poses and new jerseys.
Robert Griffin III makes his NFL debut with McFarlane Toys, but it's not the first time RGIII has been depicted by the company. The NFL's No. 2 draft pick will be featured in the new Nike red Washington Redskins home uniforms.
Cam Newton gets a new pose. The Carolina Panthers quarterback was one of the most dynamic players last season. He started his career doing something no other player had done before. He became the first rookie to throw for more than 400 yards in his first career game, which broke Peyton Manning's rookie record for most passing yards on opening day. He finished his rookie season with 4,051 yards.
The Super Bowl champion New York Giants aren't forgotten about. Wide receiver Victor Cruz will be depicted, but not while doing the salsa. He set the Giants single-season record with 1,536 receiving yards last year.
Getting a new McFarlane is New York Jets quarterback Tim Tebow. Tebow was traded from the Denver Broncos to New York this off-season and he's getting a new jersey placed on him.
Also appearing in the set will be New Orleans Saints quarterback Drew Brees, Philadelphia Eagles running back LeSean McCoy and Dallas Cowboys running back DeMarco Murray, which will be his SportsPick debut.
According to McFarlane, Collector Level is well represented in NFL Series 31. Tebow will have a Premier Level CL figure that includes an authentic autograph on a signature plate. McCoy, Cruz, and Murray are Bronze Level CL figures in alternate jerseys, while Newton and Griffin III are Silver Level. Brees will be offered as a Classic Chase in the Saints all black jersey.
The figures arrive in November.
Susan Lulgjuraj is a contributing editor for Beckett Media. You can email Susan here. Follow her on Twitter here.