Revisiting Early 1990s Baseball Cards and the Joy of Collecting Through Beckett Back Issues
If you collected sports cards in the '80s and '90s, the monthly Beckett magazines were more likely than not a foundational component of your collecting experience. For me, it was a trifecta made up of 1) the cards, 2) trading with my friends, and 3) Beckett. I received subscriptions to the baseball and basketball editions as birthday or Christmas gifts, and I picked up a football edition every so often as well.
I waited patiently (or sometimes not so patiently) each month for the issue to arrive in the mail, popped it out of its poly bag wrapper, and dug in to see how many up and down arrows were next to my favorite cards.
With the closest local card shop being about 30 minutes away, it was also a primary source for learning about cards from the past as well as what products the manufacturers were going to be releasing soon. I read stories and comments from collectors around the country, and in the pre-internet world of the early '90s, Beckett served as my first connection to the hobby world outside my circle of friends.
Over the years I'd stumble across one of my old issues every so often and think back to the good-ole days. With each turn of the page, the memories would come flooding back. I found myself thinking, "Oh yeah, I forgot about that guy!" Another issue might remind me why I have 27 Eric Anthony cards in my old binder, and sometimes the Readers Write letters made it clear that while so much has changed in the last 30 years, there is an awful lot that is the same.
I thought it would be fun to pick a random issue from four seasons that spanned my high school career and write about some of the themes and takeaways I see today from the material found inside those old issues. The issues I chose were the April 1991 Issue featuring Rickey Henderson on the cover, September 1992 with Robin Yount, July 1993 with Jackie Robinson, and April 1994 with Michael Jordan.
April 1991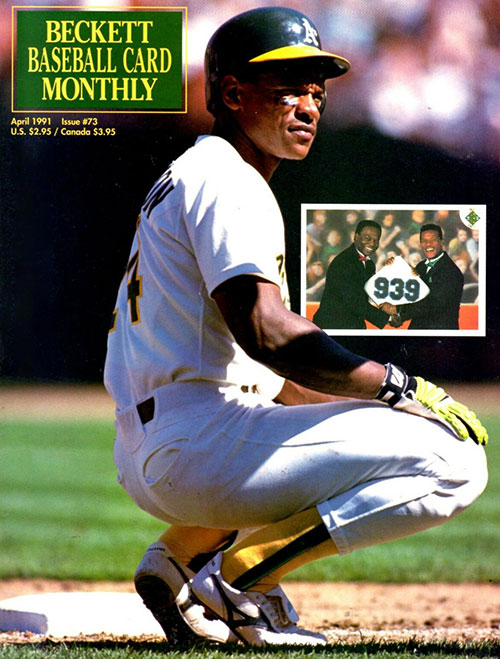 I'm going to start with the end.
The back-page article was titled, "Show It Off " and was written by Pepper Hastings. It was a three-page illustrated feature which showed readers how to turn magazine clippings, photographs, and sports cards into a custom framed piece of art. When I was a kid I was inspired by this article and put several of them together.
One of the first things I noticed when reading through the issue was in an article outlining who the frontrunners were for a variety of achievements for the 1991 season. It kicked off by making light of how Barry Bonds winning the 1990 MVP was a huge surprise that nobody saw coming. What I found even funnier is that despite that MVP season the year before, he was nowhere to be seen in the 1991 predictions for MVP or any other category for that matter. He would go on to get second in MVP voting in '91 and win his second and third MVPs in 1993 and 1994.
In the "Weather Report," Pete Rose held the top spot on the Cold list for the 24th consecutive month! The article points out that the five previous owners of the top spot (Kittle, Saberhagen, Gooden, Bo Jackson, and Nokes) were all there due to poor on-field performance, but Rose held the spot due to a loss in popularity from the off-the-field exploits that got him banned from baseball.
My biggest takeaway from this issue was the fact older cards seemed to be overpriced, and the current year cards were somewhat in line with reasonable values. For instance, the 1991 Upper Deck Jordan SP1 card was listed at $8-$12 which is in the ballpark of what you can find one of today. The complete 1991 Topps set was listed for $18-$24 which is also right in line with delivered eBay prices. However, I'm sure glad I didn't have to pay $600-$900 for my 1963 Fleer set when I completed it a couple years ago.
September 1992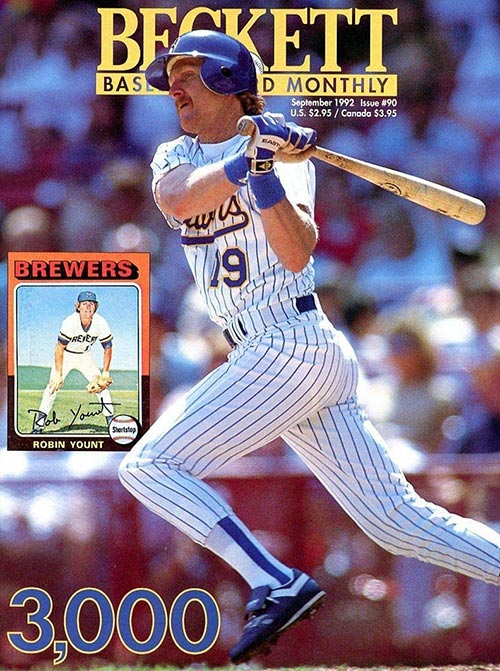 We fast forward a year to September 1992.
Sports cards were hot in the mid- to late-'80s and prices continued to climb up and to the right (sound familiar?). However, it seems by the middle of 1992, cracks were starting to form in the idea that card values would continue to climb in perpetuity. The issue opens with a note from Dr. Jim Beckett which many readers would benefit from hearing today.
Part of it reads, "While no one can predict the future, we can learn from the past. In the 1980s, when cards were going up, they kept going up – but that was the '80s. The sports card hobby, like other hobbies, runs in cycles. For those who dove in to sports cards during the late '80s, a harsh dose of reality is being administered by forces far bigger than our price guides."
He went on to say, "Today, we are witnessing a maturation of our industry. A more mature industry means dealers and hobbyists must grasp a better understanding of the marketplace and our efforts to report on that marketplace."
At some point, it is likely the theme of this message will once again ring true. The sports card market is on a multi-year resurgence that at some point will come to an end. Will it be this month, later in the year or some point after that? I'm not sure, but at some point the current cycle will turn and some air will be let out the balloon we currently find ourselves in.
My favorite article in this issue was the feature covering the similar career paths George Brett and Robin Yount had in their journey towards 3,000 hits. Both their Rookie Cards appear in the 1975 Topps set, and both played with their respective teams their entire careers. As this article highlights, they were both on track to achieve 3,000 career hits during the 1992 season, a feat they both actually completed that summer. The article closes by asking when they will both hang up their cleats and retire, wondering if perhaps they will go out together as well.
It turns out that is exactly what happened. Both Brett and Yount retired after the 1993 season.
July 1993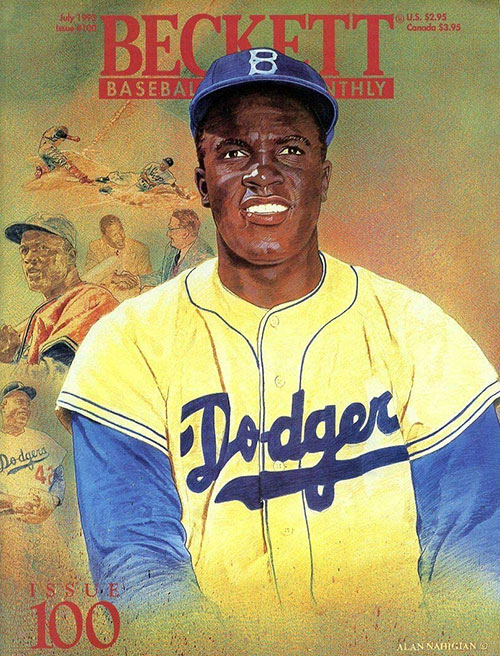 The July 1993 issue happened to be the 100th issue of the magazine. Along with it, one of the featured articles covered the 100 most significant cards of the modern era from 1948–1993, written by Mike Payne – now the Editorial Director at Beckett.
Topping the list was the predictable 1952 Topps Mantle. Other cards from Ryan, Aaron, Clemente, and Jackie Robinson were prominently featured as you might imagine.
Cards from a couple active players, were on there, too. The highest ranking active player card was the 1989 Upper Deck Ken Griffey Jr., and probably justifiably so. Even today, that card is synonymous with the peak of cardboard popularity during the junk wax era.
There were, however, a few cards which may not make a top 100 list these days. First up is the 1983 Fleer Ron Kittle #241. While Kittle definitely had his 15 minutes of fame in the sports card world, I'm not sure many collectors today would put his RC in a list of the most significant cards of all time. The 1990 Leaf Frank Thomas would still find its way onto the list of many collectors today, but I'm not sure how many would use four of their 100 spots on Frank. While they continue to be cool cards, I'm not sure the 1992 Rookie Sensations, 1991 Stadium Club, or 1992 Bowman cards would still be on my list today.
Dr. Beckett also answered some questions in a Q&A, and I was both surprised and not so surprised at the questions he was asked. The health of the hobby, staying in touch with the average collector, the price of a pack of cards, and the concern that fewer kids were interested in baseball and baseball cards were hot topics in 1993, and they continue to be on the minds of collectors and dealers today.
This issue is packed with goodness, and from cover to cover there were interesting articles and reflections on the 100 issue history of the magazine.
Speaking of the cover, I don't want to overlook the fact that Jackie Robinson was chosen to grace the front of this milestone issue. Jackie was one of many who fought for equality, and while much progress has been made since the 1940s, that fight continues today. The other day, there were some boys around the age of 9 or 10 who were looking through the quarter boxes at my shop. They came to look for Dodgers and their level of excitement grew as they found a stack of Jackie Robinson cards. They laid all 10 cards side by side to pick out which one they wanted to buy. Much is said about the next generation of collectors having no interest in the legends of the past. Well, these kids knew Jackie, and they knew why he was significant. That gives me hope for our future.
April 1994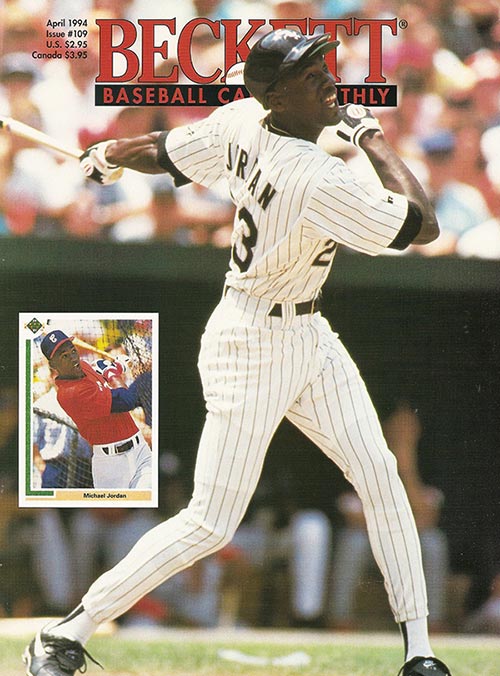 There is so much to unpack inside this issue.
Through the first three issues, we started to see warning signs in the upward trajectory of the sports card industry. Reader's Write sentiment and even the number of down arrows in the price guide were all indications the hobby was at a breaking point. Little did we know what was right around the corner.
The issue was released right before the 1994 season and as the cover shows, Michael Jordan's foray into baseball was the hot topic. He landed on the cover of the baseball magazine and a two-page feature full of good natured speculation was a nice addition to this issue.
One of the first things that stood out to me about this issue came not from the articles themselves, but from the full page ads the manufacturers took out. Score had a two page ad highlighting 1994 Series 2. They actually trademarked the phrase "Guaranteed Scarce" and were heavily promoting there would be no factory sets and production would be limited.
A two-page Ted Williams Card Company advertisement followed a few pages later, and one of the lines used in that one read, "Our cards, as limited as they are (and believe it, they truly are limited,) take you back to a golden time of baseball."
Flip a dozen or so pages forward and the two-page Donruss ad leads with the fact that 1994 would be their lowest level of production since 1985, and that would be verified by an external audit firm.
The Pinnacle ad towards the end of the magazine also utilized their trademarked "Guaranteed Scarce" line. I had no recollection of this emphasis during the 1994 season, but looking back through the issue it was clear that the word was out. Over-production is an issue and the manufacturers were going to do something about it.
From a card value perspective, one thing really stood out to me: Derek Jeter was not a thing, at least not compared to other prospects at the time. Also, the 1993 SP set seemed relatively overlooked in general. The value of the 1993 Topps Finest set was listed as $325-$450 in that issue, with Mike Piazza being the most expensive card at $50. The 1993 SP complete set ranged from $50-$80 and the highly coveted Jeter #279 was priced for $1.25-$2.50. Jason Bere, Cliff Floyd, Rondell White, and Chad Mottola were a few of the names who were worth more than the future Hall of Famer.
A few months later, major league players and owners found themselves in a labor impasse. The games stopped in August and the 1994 World Series was cancelled. Many point to the work stoppage as the final nudge to a teetering hobby which pushed it into the multi-year retraction for the next several years. The work stoppage, along with my transition into college the following year, led to my 20-year absence from the hobby. I essentially bought no cards from 1995-2015.
I sit here now more than 25 years years later reflecting on this four-year window of my life, and as I read these issues I still felt the same excitement I felt so long ago. In fact, the Jordan issue is still in its original bag and popping it out to read for this article felt exactly the same.
The themes that pop off these selected pages over these four years are an example of how even in our hobby, history has a tendency to repeat itself. Prices will rise and fall. Collectors will come and go. However, this hobby, which has been around for a century, will go on. As long as collectors are willing to adapt, there will always be fun, affordable options which provide enjoyment.
Yes, much has changed in the hobby over the last 30 years. Yet at the same time so much is the same. The memories which I dug up look-ing back through these issues have solidified that fact. I'm also more convinced than ever that we can both cherish those memories and also use the lessons learned to adapt to the evolution the hobby will continue to experience over the next 30 years.
I don't know what the future holds for the hobby, but one thing is for sure. I loved collecting as a kid, and you know what? I still love it to day.