Return of the Gronk – Beckett Pricing Insider
This edition of the Beckett Pricing Insider is brought to you by GTS Distribution. Watch Go GTS Live – The Hobby's Web Show, every Thursday at 9 PM EST.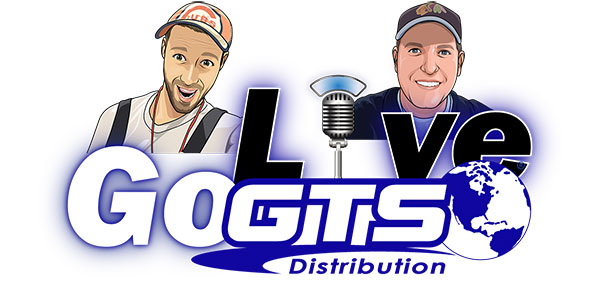 Rob Gronkowski is coming out of retirement to join Tom Brady in Tampa Bay. Gronk retired for the entire 2019 season after a career plagued with injuries. Hopefully that one year off will be just the thing that he needed to help him heal up. Gronkowski is widely considered one of the best tight ends of all-time. He can put up huge offensive numbers and throw down a massive block if you need him to. He will be joining an already stacked in Tampa, so maybe the attention won't always be on him and he can put up big numbers without getting injured again.
If you were to pick one tight end to collect, chances are it would be Gronkowski. Not at all a shock, his Rookie Cards have seen steady rises over the years. His autograph have always sold strong as well. Even during his injury seasons his values didn't dip that much.
2010 Topps Chrome Black Refractors Rob Gronkowski
Topps Chrome Rookie Autographs were some of the most popular in football when Topps had an NFL license. Similar to Prizm, collectors loved to chase the colors. A Black Refractor was one of the best you could get and a 9.5 makes it that much better. Expect one of these to run around $2,000 today.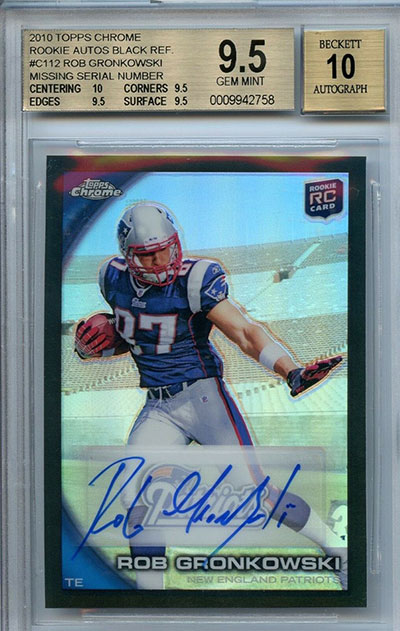 2010 Playoff National Treasures Rookie Signature Material Gold Rob Gronkowski
This card normally goes for around $400 but getting a BGS 9.5 pushed that value to around $1200. A piece of the logo patch certainly adds to the card's overall appeal.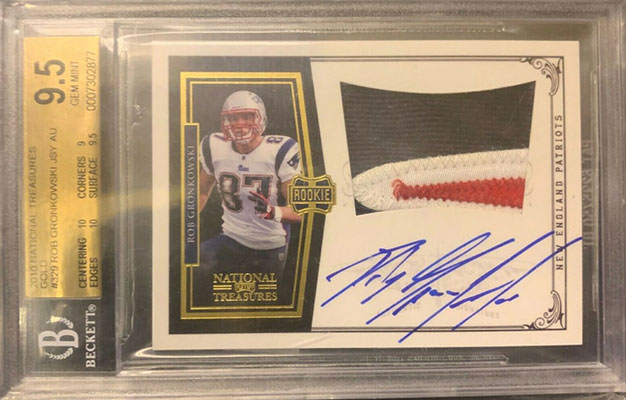 2010 Playoff Contenders #229 Rob Gronkowski (Blue Jersey)
Panini loves to put out variations in Contenders. In 2010 Gronk had separate Blue and White jersey versions. Both of them had the same announced print run of 499 so there are plenty of copies out there for collectors to get their hands on.