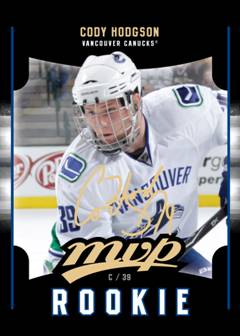 By Andrew Tolentino | Hockey Editor
Upper Deck recently released details regarding the late-summer retail release of 2011-12 Victory Hockey.
For hockey fans looking to jump start their 2011-12 collections, this is a brand that hits early and delivers desirably for retail rippers. Each 36-card fat pack should yield: two red parallels, one rookie or superstar insert, and two Victory Rookies.
New to the set are MVP cards, with regular players inserted one in every three packs and MVP rookies falling one in every 18 packs.
Other retail highlights include:
Red parallel Rookie Cards (two in every five packs)
Black parallel regular cards (one in 720 packs)
Black parallel Rookie Cards (one in 1,440 packs)
Stars of the Game inserts (one in every pack)
Game Breakers inserts (one in every pack)