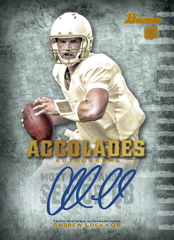 By Andrew Tolentino | Beckett Football Editor
Topps' recently trumpeted 2012 Bowman Signatures brand left many football collectors asking one simple, reasonable question. Where the heck is basic Bowman?
Today, the manufacturer clarified, noting that the beloved brand will land around  the same time — in retail form.
This year's Bowman is scheduled to hit shelves on May 21 with eight to 24 packs per box, depending on what the retailer carries. Blaster boxes will contain eight packs, each offering five veteran base cards and three base Rookie Cards, while 24-pack boxes have the same pack formula and might make for better odds on pulling the most coveted cards in the product.
Autographs in 2012 Bowman mirror some of the sets in 2012 Bowman Signatures (Chrome Refractor Rookie autographs, Inside the Numbers, Dual and Triple autographs), but there are two retail exclusives to chase here. All-American Autographs feature hard-signed signatures from up to 20 top rookies, and Accolades will showcase on-card autographs from 10 elite newcomers.
The same retail-exclusive approach goes for Relics, inserts, and parallels throughout the set. Like Signatures, 2012 Bowman will also feature Autographed Relics, Inside the Numbers, and Combine Competition cards, but the basic brand will also include Inside the Numbers Relics and Accolades inserts. Rookie Cards in 2012 Bowman come are paralleled in silver (numbered to 99), green (numbered to 25), and retail-exclusive gold and purple parallels (numbering remains unknown at the moment).
Stay tuned to Beckett.com for more details, preview images, and who knows — maybe even a Venn diagram to further illustrate the differences and similarities between 2012 Bowman and Bowman Signatures.