Remembering Fleer Ultra X-Men, the greatest line of mutant trading cards ever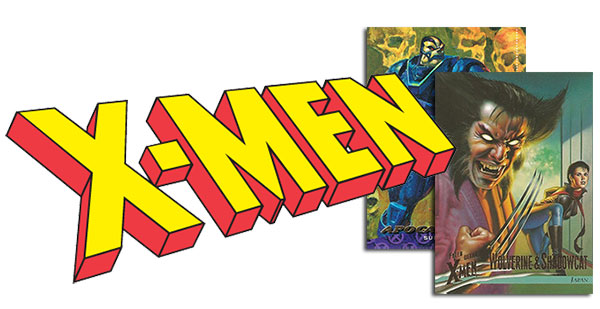 By Ryan Cracknell | Hobby Editor
As one of the biggest names in comics — even if the powers that be might not want it to be that way — collectors have a lot of choices when it comes to X-Men trading cards. Between the comics, movies and that spectacular 1990s cartoon, there are dozens of sets dedicated to Professor Xavier's friends and foes. But there's one multi-year line that stands out above them all — Ultra X-Men.
Fleer debuted Ultra as their entry into the world of increasingly premium sports cards. By the time it arrived in the comic realm a couple of years later, the brand had matured and found an identity outside of other companies' premium lines. The result? Three years and four different sets of Ultra X-Men trading cards later that are some of the best ever made for a comic franchise.
1994 X-Men Ultra Trading Cards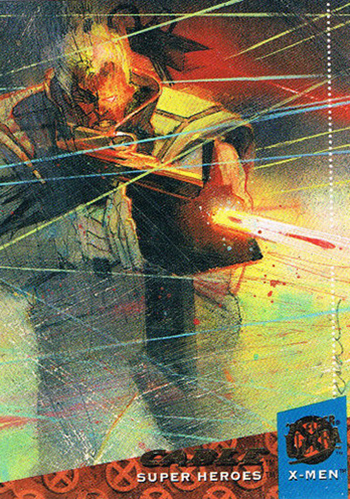 Things start off with a 150-card base set. Every one of them is fully painted. The styles vary from the slightly abstract to detailed fantasy. Bill Sienkiewicz, Julie Bell, Jim Steranko and Dan Brereton are among those lending their skills to the set. The majority of the checklist consists of cards spotlighting specific heroes and villains. Some are over-the-top, but it was the wild 1990s. Other subsets explore major storylines and some of Wolverine's most epic showdowns. Like all of the Ultra sets, the cards are glossy to touch.
Inserts continue with high-art designs. Fatal Attractions uses etched foil, or PowerBlasts as how they're often referred to as in comic sets. Greatest Battles Silver X-Over use basic foil. Team Portrait is a nine-card puzzle that go together to make a collage of more than a dozen heroes. Walmart packs have Triptych cards that form two separate three-card puzzles.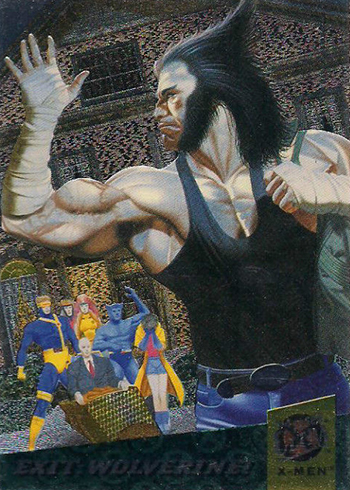 1994 X-Men Ultra hobby cases came with a set of five over-sized Ultra Prints.
1995 X-Men Ultra Trading Cards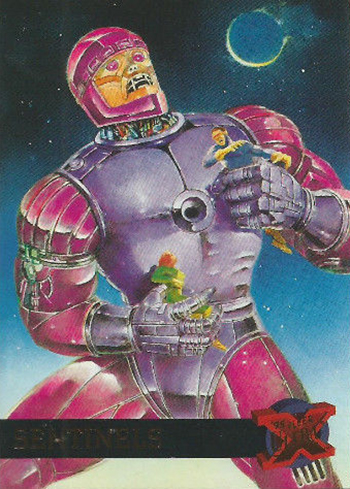 1995 X-Men Ultra stays true to the first release. The main set stays the same at 150 cards. It's a who's who of fantasy art among the painters. Luis Royo, the Hildebrants, Boris Vallejo and Ray Lago are just a few of the big names to paint Cyclops, Magneto, Jubilee and the dozens of other X-Men characters.
While most of the cards are the standard character and battle type, there is a ten-card subset towards the end of the checklist that isn't like anything else in the set. Whether it was just an excuse to put Storm and Rogue in bikinis or something else, Spring Break shows a lighter side to a usually serious franchise.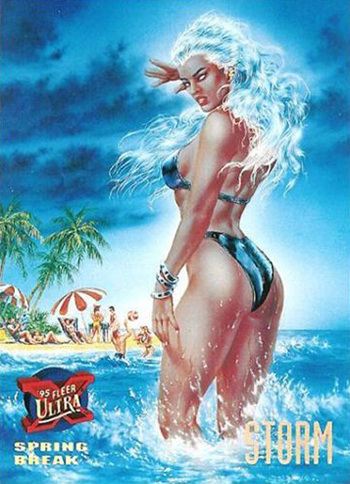 The three main insert sets in 1995 X-Men Ultra each use a different type of stock. Sinister Observations are all on Chromium. Acetate is used in Suspended Animation to highlight characters from the Saturday morning cartoon, although with more detailed interpretations. Hunters and Stalkers is another PowerBlast-style set.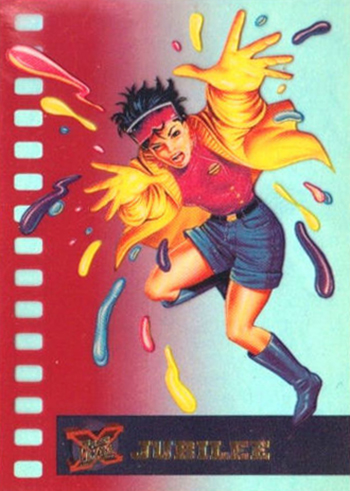 Jumbo Ultra Prints return as case toppers. This time there are ten instead of five.
1995 X-Men Ultra All-Chromium Trading Cards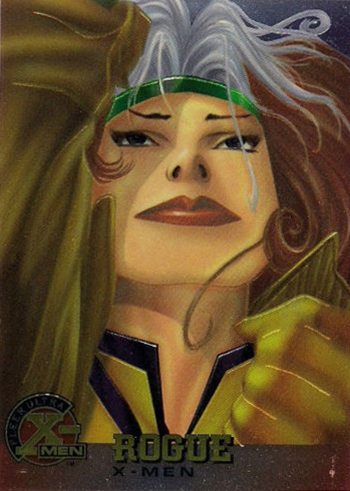 As the name of the set suggests, 1995 X-Men Ultra All-Chromium goes in a bit of a different direction. It's still an all-painted affair, albeit with a metal edge. All of the artwork is done by the Kubert family: Adam, Andy and Joe. The base set shrinks by 50 cards down to 100. Again, the majority are character-driven. The most notable subset is Haunted Mansion, which gives lead characters fantasy-based personas. Professor X dons a wizard hat while Ice Man is made into a snowman.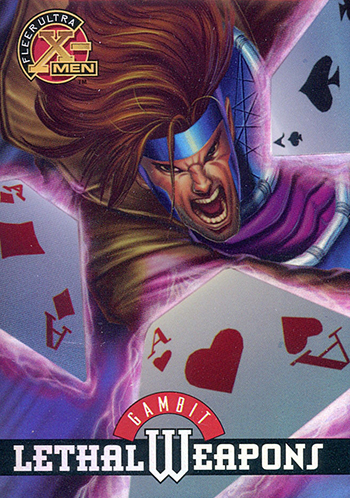 There are just two insert sets. Alternate X has 20 embossed cards with one in every other pack. As cool as it would have been to pair X-Men with Mel Gibson and Danny Glover, Lethal Weapons is a simple but attractive Holo-Flash set.
1996 X-Men Ultra: Wolverine Trading Cards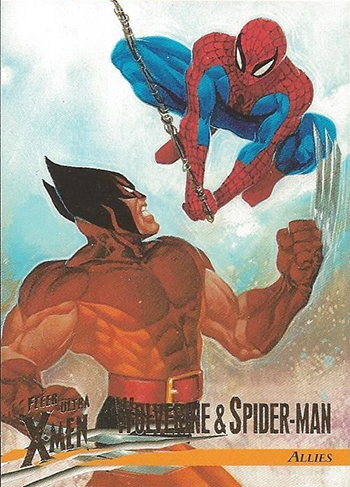 The final set of Fleer Ultra X-Men trading cards center on the most popular member of their ranks, Wolverine. Actually, it's still comprehensive as far as X-characters go. Actually, much of the Marvel Universe is here. Ken Kelly, Joe Jusko and Mark Texeira are just some of the artists on the checklist. As far as the base set goes, there are 11 different Wolverine themes, each getting nine cards from the same artist. A basic checklist completes the 100-card set.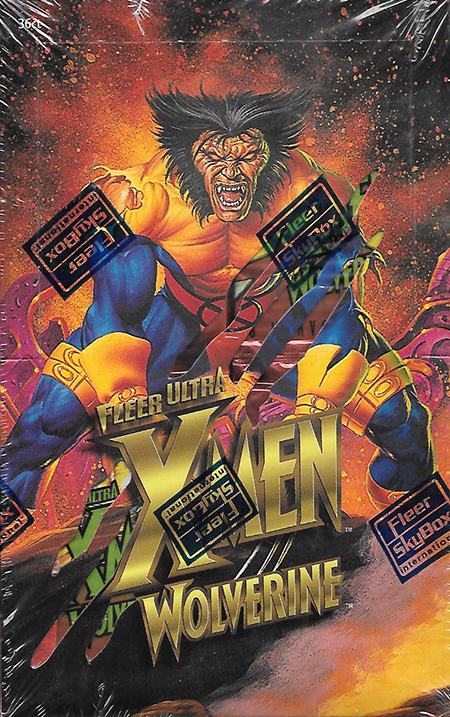 Inserts are on the sparse side. Greg and Tim Hildebrandt did a nine-card HoloFlash puzzle. Three lenticular Mirage cards use motion. These are tough to find and can get a little expensive compared to a lot of other inserts.