Redeem or sell: 2013 Leaf Best of Hockey Mystery Redemption Item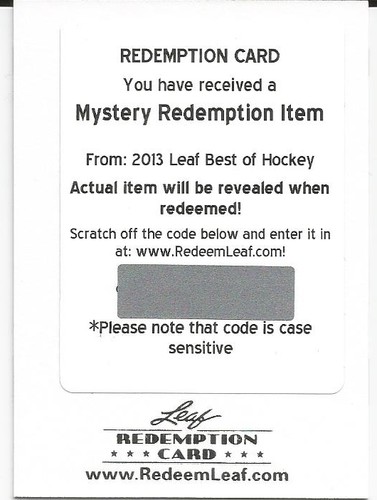 By Susan Lulgjuraj | Beckett Hockey Editor
Each box of 2013 Leaf Best of Hockey contains just two cards. One card is a 1-of-1 sketch card while the other is a buyback for graded Rookie Cards or autograph cards or vintage cards.
One card is getting special attention from collectors – the Mystery Redemption Item
.
The item could be for an unsealed box of cards, with many of them being from the 2005-06 season. That season was popular with the double rookie crop led by Sidney Crosby and Alexander Ovechkin.
Collectors have already redeemed some of these redemptions for a 2005-06 Ultimate Collection box, a 2005-06 Upper Deck Series 1 box and a 2009-10 The Cup box.
When it comes to pulling this card, collectors are deciding between selling or redeeming. The first of the redemptions to pop up on eBay sold for $949.95
at a Buy It Now price. There are currently two redemptions up for auction (here
 and here
), and both are above $200 with several days to go.
Considering a box of Best of Hockey can run collectors between $260-$300, pulling the redemption would seem like a sure way to make money back on a box. Even a case break would yield a good return when combined with the rest of the cards.
However, these cards are very rare and getting the opportunity to get a 2005-06 hockey product could be worth it. Unopened hobby boxes of UD Series 1 sell for $250 and above with a chance to pull a Crosby Young Guns (with a high book value of $300).
If you pulled the Mystery Redemption, would you redeem or sell?
Susan Lulgjuraj is an editor of Beckett Hockey. You can email her here with questions, comments or ideas. Follow her on Twitter here. Follow Beckett Media on Facebook and Twitter.