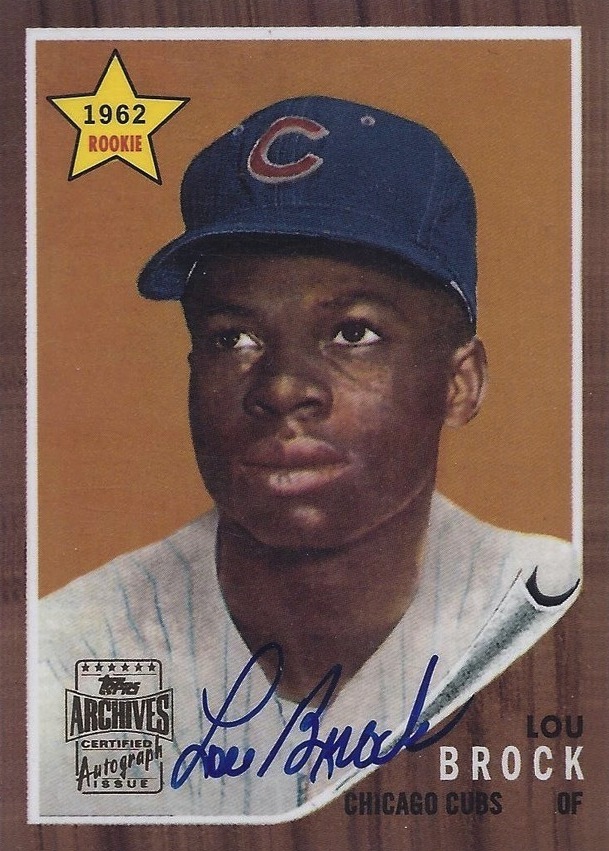 By Chris Olds | Beckett Baseball Editor | Commentary & Opinion
Before the arrival of Rickey Henderson many years ago, Lou Brock was the king of stolen bases in MLB. He's a relatively accessible signer and an autograph that's not tough to find — and not very expensive — with some looking.
But his autograph on a short-printed 2001 Topps Archives reprint of his Rookie Card?
That's a different story — a story that apparently should offer us all a brief respite from the notion that there isn't life after cardboard turns a certain age even in today's seemingly over-saturated, it's-been-done-before-I-already-have-it environment.
How much for the Brock? You wouldn't believe it if I typed it.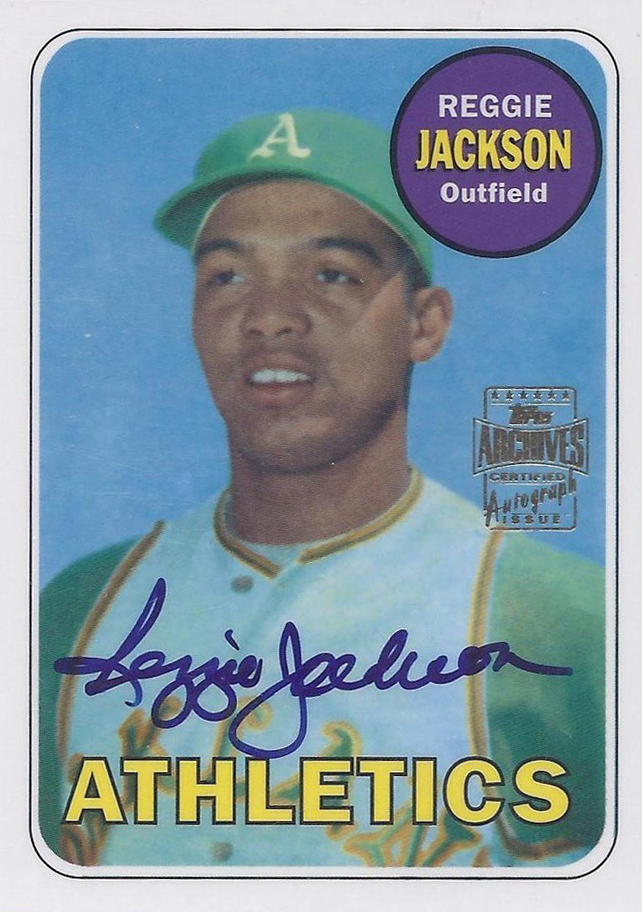 For those who didn't click, that's about $3,000 more — if not even more — than it should be for a typical Brock autograph, the only difference here that it's a card that's limited to just 50 copies — one of 14 short-printed Group A autographs in that first two series of Archives, a reprint-based brand (click here for a checklist and OPG) that lasted a few years before it was revived with a slightly different concept last year.
While one may think that some online auction shenanigans were in play here, there were 20 other cards from that set sold in the last month or so on eBay that have topped $500. Nearly all were A-list Hall of Famers and nearly all are short-prints limited to 50 copies. A few different buyers emerged victorious on this one, which, according to the auction listing, was purchased as a set by a group and broken up to be sold. Feedback has been left on several of the big-dollar auctions by the buyers.
The others?
| | |
| --- | --- |
| Player | eBay auction end |
| Reggie Jackson | $2.650 |
| Hank Aaron | $2,550 |
| Lou Brock (second copy) | $2,250 |
| Willie Mays | $2,030 |
| Carl Yastrzemski | $1,602.77 |
| Reggie Jackson (BGS 9/10) | $1,600 |
| Stan Musial | $1,532.07 |
| Yogi Berra | $1,504.99 |
| Ernie Banks | $1,259.56 |
| Yogi Berra (BGS 8/10) | $1,250 |
| Bob Gibson | $1,237.12 |
| George Brett | $1,107.07 |
| Johnny Bench | $948 |
| Tom Seaver | $898.88 |
| Nolan Ryan | $898.88 |
| Tom Seaver (second copy) | $865 |
| Mike Schmidt | $738 |
| Brooks Robinson | $513.44 |
| Don Larsen | $513.44 |
—
The autographs in that year's set were found one in every 20 packs — at hobby or retail — but Group A cards were found at a rate of one in every 3,049 packs some 117-times harder to find than the easiest signature group.
That, combined with the obvious drawing power of most of those players, along with an apparent run of interest between a few bidding parties has led to what we have today, little over a decade after one could find them in packs at, say, a neighborhood Kmart or a hobby shop.
It's not been uncommon for the biggest names — except for Mays — to sell between $300 and $600. Mays has sold for more. Meanwhile, wax boxes from the two series are still available in online auctions for about $200 at the most with the realistic odds that a Group A auto is not inside as they fall one in every 153rd or so wax box.
So, what should one make of this? Do you chalk it up to the break-up value of a tough set emerging on the market for some hungry bidders for the first time in years? Do you just think it's the auction block reaction of a couple of interested parties? Is it a realization that once that first month or two's supply of a product's eBay floods is dissipated — and over time — even seemingly obtainable but rare cards can be much, much more in-demand than we might think?
Or, could it be the star power of the players involved and some deep-pocketed, old-fashioned collecting interest?
I'd say it's perhaps all of the above — and more — and while I'd want to go dig through my autograph stashes from all my 2001 Kmart runs where I cleared shelves of packs and blasters in search of some nice ink I know that Group A was one that eluded me quite a bit that year.
Apparently, those cards escaped the grasp of a few of you, too.
Chris Olds is the editor of Beckett Baseball magazine. Have a comment, question or idea? Send an email to him at colds@beckett.com. Follow him on Twitter by clicking here.
Let us know what you think with our poll and in the comments below. 
—
Loading ...
—
—