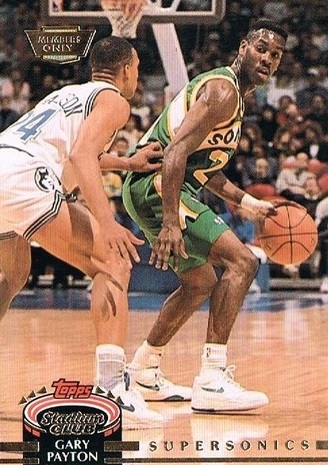 By Susan Lulgjuraj | Beckett Basketball Editor
SPRINGFIELD, Mass. | Gary Payton has spent 13 years amassing a great basketball collection – a collection full of his own stuff that includes jersey, sneakers and awards.
"I saved a lot of everything," Payton told Beckett Media. "I have every tennis shoe from each year, every jersey I played in every city. I got my championship jersey framed with everything in it."
Payton was inducted into the Basketball Hall of Fame in Springfield, Mass., in September. He talked about his collection and his life in the basketball world. Payton was named the NBA Defensive Player of the Year in 1996. The Glove was one of the best defensive players to hit the NBA court.
Payton's collection may one day see the light of day for collectors, but enjoys keeping the memories from his playing days.
However, Payton doesn't keep the best of the collection. After he wore tried on his Hall of Fame wing, he gave it to his ex-wife Monique James.
"I think she deserves it," Payton said. "All the stuff she put up when I was a knucklehead. I wanted to five back at this moment. She raised these great kids that I have."
He also has given much to his parents, his way of repaying them for all they have done for him. His father coached him when he was a child and mother kept him in line. He gave them his two Olympic gold medals and he also gave his mother his NBA championship ring that he won with the Miami Heat.
"They brought me into this world," Payton said, "I just made it better with the talent I had."
While Payton has kept everything from his own career, his collecting days started when he was a child in Oakland. He began playing basketball at 7 years old and kept pictures of George Gervin on his wall.
Gervin was his idol growing up and walked Payton on to the stage during the Hall of Fame ceremony.
"I looked up to him when I was in Oakland," Payton said during his Hall of Fame speech. "I had all his posters on my wall, I had all his cards."