Reba McEntire's son makes his trading card debut in Total Memorabilia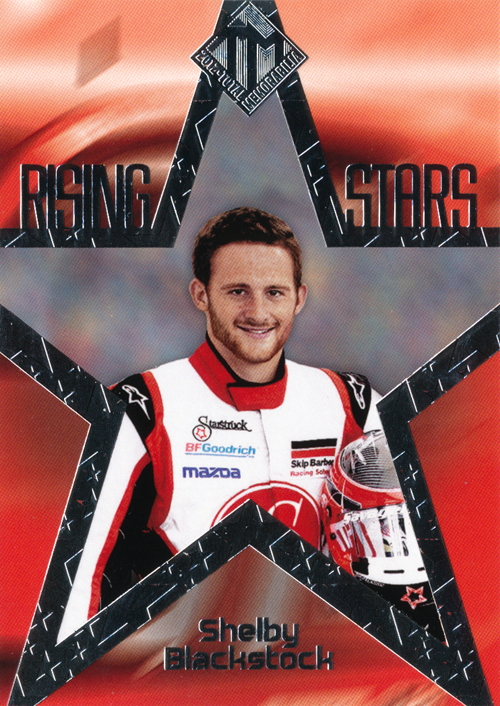 By Chris Olds | Beckett Sports Card Monthly Editor
If you've ripped into packs of the recently released 2012 Total Memorabilia racing cards from Press Pass, you might have thought one newcomer looked a tad familiar but not known why.
As it turns out Shelby Blackstock, an up-and-coming racer who makes his trading card debut in the TM Rising Stars insert set, has a mom who you just might know.
She's music and TV star Reba McIntire, who has recorded more than 25 country albums, had her own Golden Globe-nominated sit-com and appeared in movie classics such as Tremors and Maverick.
But the Press Pass card is all about Blackstock, who is part of the Roush Performance stable of drivers this season. He appears on a standard card as well as four signed versions of the card found in packs. Certain copies of his cards have sold for as much as $80 in recent eBay auctions, while others remain much more affordable. (The back of his card, of course, does mention Mom.) What are they worth? Find out here.
We caught up with Press Pass Vice President of Brand Management Tom Farrell to get the basics on how this card came about.
Q: How did this insert card set come about? Were there any hesitations at all of doing more obscure/lower-level drivers?
A: In 2009, we started a program called Undiscovered Elements that highlighted young up-and-comers in racing. The program was very popular and was the basis for the Rising Stars program in 2012 Press Pass Total Memorabilia. The drivers' autographs are typically very limited and typically only appear in one product as a "Rising Star." We try to focus on drivers who have done well in other sports, such as Ricky Carmichael in 2009, drivers that may have a NASCAR tie-in, such as Harrison Burton or Jack Roush Jr., and drivers that have other famous connections. Shelby Blackstock is a contender for the Grand Am Continental Tire Sports Car Challenge Series Rookie of the Year award.
Q: Were there any challenges of getting him to do a card deal at all?
A: Most of the up-and-coming drivers are excited about their first trading cards and Shelby was no exception. We didn't have any trouble convincing him to work with us, and we're glad he is a part of the program this year.
Q: Any plans for additional cards of him — or autographs, etc. — in future products?
A: We're always looking for new names to include in our trading card sets throughout the year, and we're constantly monitoring the performance of drivers across many racing series. If Shelby performs well, there is a good chance he will appear in future products.
Q: Any talks about doing a card with him and his mom somehow involved?
A: While we don't have any immediate plans to do so, Reba has a huge fan base, especially among NASCAR fans, so we wouldn't rule it out.
Chris Olds is the editor of Beckett Sports Card Monthly magazine. Have a comment, question or idea? Send an email to him at colds@beckett.com. Follow him on Twitter by clicking here.