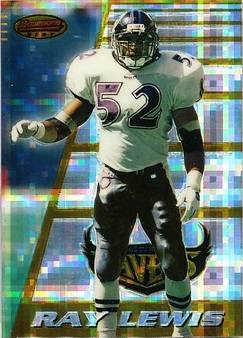 By Susan Lulgjuraj | Beckett Football Editor
The Baltimore Ravens received tough news about their defense.
They will be without Ray Lewis, a 13-time Pro Bowl selection and two-time Defensive Player of the Year.
Who knows if he ever suits up again?
Ravens coach John Harbaugh announced the news to reporters on Monday. The linebacker suffered a full triceps tear in Sunday's 31-29 win over the Cowboys. He led Baltimore with 14 tackles that day.
Given his age, 37, it could mean the end of his 17-year NFL career, but right now Lewis' future is murky at best.
Lewis has more than 2,000 career tackles, 1,567 of them solo. He also has 41.5 career sacks.
Lewis is the heart and soul of the Ravens defense even if his play has diminished. Even though he is a polarizing figure, Lewis still commanded respect on the football field.
Here's a look at Lewis on cards, according to the Beckett database:
Cards: 2,788
Rookie Cards: 8
Autographs: 142
Memorabilia: 776
More: Get a Ray Lewis checklist and online price guide here.
Some of his cards have gone for a good amount of money recently.
A 2010 Triple Threads autographed memorabilia booklet numbered 3-of-3 old for $503 on Oct. 7. On Aug. 19, a 2002 Topps Ring of Honor Lewis autograph sold for $350.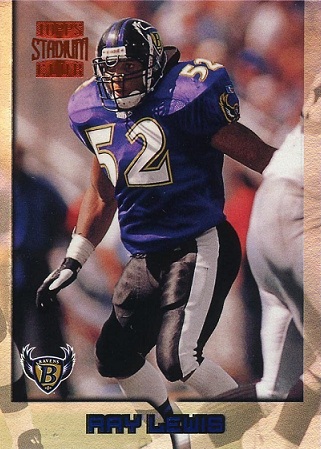 Here is a list of all of Lewis' Rookie Cards
– 1996 Bowman's Best #164

– 1996 Collector's Choice #20

– 1996 Fleer #165

– 1996 Pro Line Intense #59

– 1996 Pro Line Memorabilia #59

– 1996 Score Board Lasers #99

– 1996 SkyBox Impact Rookies #6

– 1996 Stadium Club #351
Susan Lulgjuraj is an editor of Beckett Football. You can email her here with questions, comments or ideas. Follow her on Twitter here.