Raul Ibanez: Yankees' Home run hero and "who?" in terms of Rookie Card demand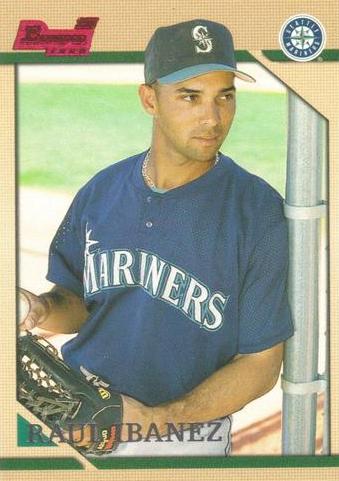 By Chris Olds | Beckett Baseball Editor | Commentary
In the ninth inning of last night's Orioles-Yankees playoff game, Raul Ibanez came to the plate with the world watching.
Why? Because he was pinch-hitting for the Yankees' $275-million man, Alex Rodriguez, with the game on the line. That's not the conventional move — even if A-Rod isn't hitting Justin Bieber's weight in the postseason.
Ibanez homered to force extra innings before he came to the plate again in the 12th and won the whole darn thing with a second home run swing. Three pitches, two home runs.
That's something that had never happened in postseason history and was something that instantly catapulted him into postseason and Yankees lore.
But it didn't do much for his baseball cards, particularly his Rookie Cards.
You see, Ibanez arrived on the scene in the awkward years, the tween years, of the hobby's evolution toward what it is today.
He appears on six Rookie Cards from 1996 — none serial-numbered, none signed, none with game-used memorabilia pieces attached.
And none that typically sells for more than $5. (Need an Ibanez checklist or Online Price Guide? Click here.)
The highest completed eBay auction for Ibanez and 1996 Bowman? A total of $25 for a lot of 22 cards from 1996. A 1996 Bowman's Best Refractor sold for $15, while a lot of five Bowman rookies — his best RC — sold for $15, or $3 apiece. That's not to say there's not some potential upward movement, though. One auction — for a pair of his Bowman RCs — ended at $13.50, but that probably won't be the norm in the coming days.
Instant-gratification purchases and plenty of available Rookie Cards for a readily available player equate to something that just can't last. Even with Yankees pinstripes on his back.
Well, unless he does it again — or the Yanks rally and win it all with him continuing to play a key role.
Chris Olds is the editor of Beckett Baseball magazine. Have a comment, question or idea? Send an email to him at colds@beckett.com. Follow him on Twitter by clicking here.