Rare Kobe commands crazy cash on eBay – but will it be paid for?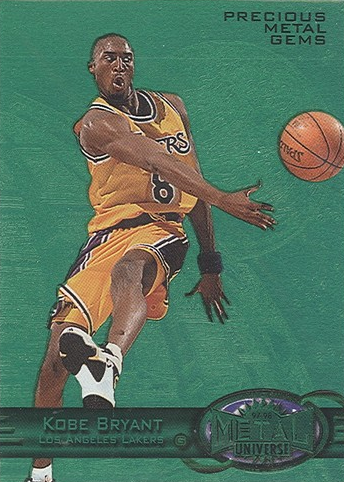 By Chris Olds | Beckett Basketball Editor | Commentary
A Kobe Bryant 1997-98 Metal Universe Precious Metal Gems Emerald card up for auction on eBay ended at more than $37,600 just seconds ago on Wednesday night after 45 bids.
It ended at $37,665 to be exact.
The card is serial-numbered 008/100 — matching the Los Angeles Lakers star's old uniform number — and is one of just 10 copies of the Emerald card that were made. The remaining 90 cards are the Red version of the partial parallel to the Metal Universe set, which carried a $2.49 a pack suggested retail price at the time of release. Not a bad potential return from a few years ago, eh? (Need a Metal Universe checklist or Beckett.com OPG to find out what your cards are worth? Click here.)
Now, we just need to wait and see whether the card will be paid for.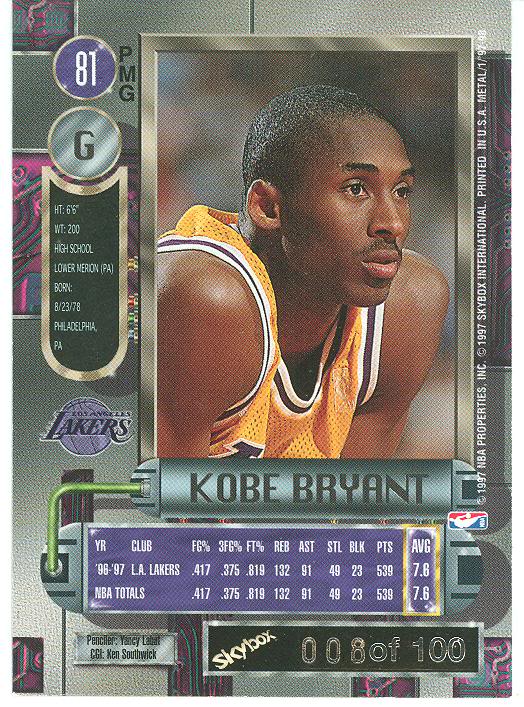 The card was put on the auction block by eBay user "kobedownunder" a long-time Bryant collector from China who has perfect feedback for more than 1,200 transactions since 2003.
"Glad to know Beckett is watching this item. I was thinking to put my whole Kobe collection on Beckett.com a couple years back," he said when contacted before the sale was final. "I can talk about this card or my Kobe collection later if you're still interested, but please go easy on me [because] I'm Chinese. English is just not my first language."
Regardless of any language barrier, there's no doubting the appeal of rare 1990s inserts of superstars such as Bryant and His Airness, Michael Jordan, as they have commanded spots on the Beckett Basketball Hot List for months. Their cards say plenty.
"The number is shocking, but at the same time, it's not," said Beckett Basketball Senior Market Analyst Rob Springs, who tracks sales of basketball cards daily for Beckett Media. " It's the most scarce and popular basketball parallel set from the 1990s and it's Kobe's former jersey number."
Recent noteworthy tracked sales from the set haven't come anywhere close to this card's sale price, but considering the players there is still clearly plenty of interest in the Emeralds. A Chris Childs — yep, Chris Childs — sold for $610, while a Chris Webber went for $908 and a Karl Malone sold for $808.  Meanwhile, a Red Dennis Rodman sold for  $1832.73 and a Red Tim Duncan sold for $761 — all cards without an autograph or piece of game-used material adorning them. These days, those cards are just much tougher to find as wax has dried up to an extent and many of those cards that were previously pulled are tucked away in collections … somewhere.
The trend of rarer 1990s insert cards — autographs or not — growing in demand for the biggest stars is not new. Sometimes they are signed Jordans, sometimes they are not. Sometimes, it's not even basketball — or star players.
Either way, the numbers should surprise.
This trend also follows the path of iconic 1980s cards in top professionally graded condition that have commanded serious cash in recent years. For example, a BGS 10 Jordan Rookie Card sold for $100,000 last year. Meanwhile, the new creations in the hobby from current NBA licensee Panini America — rare 1/1 autographed Logoman cards of guys like Blake Griffin, for example, at $38,032 — also have sold for serious cash.
Lastly, the Bryant Metal card is not even the lone notable Kobe auction to end with a big-ticket pricetag in recent weeks, either, as a 1/1 2004-05 Exquisite parallel of the 14-time All-Star went for $21, 124.81 after 34 bids on March 25.
While these are the exceptions and not the rule, it's hard not to see how there's not plenty of lifeblood — and cash — flowing in our far-from-dead hobby these days.
Chris Olds is the editor of Beckett Basketball magazine. Have a comment, question or idea? Send an email to him at colds@beckett.com. Follow him on Twitter by clicking here.
(Need a Metal Universe checklist or Beckett.com OPG? Click here.)
—
Loading ...