Rare 2011 Topps Update Black Mike Trout Pulled During Day 1 Break at the 2021 National
Between the Breaker Pavilion, wrapper redemptions and post-show hotel breaks, there's going to be no shortage of empty packs and boxes left in the wake of the 2021 National Sports Collectors Convention. That will also mean some big cards getting their first glimpse of light since being locked inside their shrink-wrapped resting places. But Day One of the show might have brought forth the biggest pull of the weekend — a 2011 Topps Update Black Mike Trout numbered to 60.
The pull came during the first event of the show from the Mike Berkus main stage. The Coffee Breakers busted a 2011 Topps Update Baseball hobby box. Slots for the break were sold by the pack through StockX.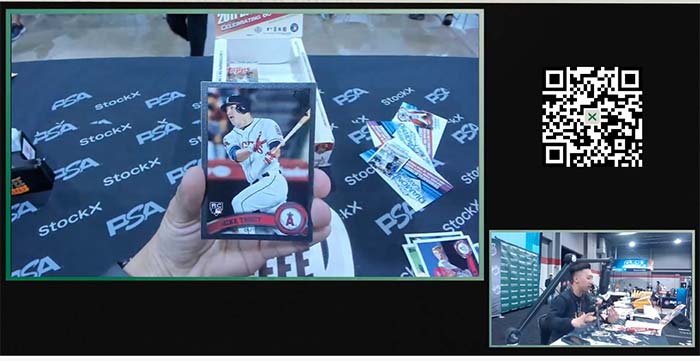 The Trout came near the end of the break, in pack 34.
It went like this:
Gerald Laird
Alexi Ogando
Joel Peralta
Andy Sonnanstine
Micah Owings
Mike Trout Black (/60)
Brandon League Gold (/2011)
Javy Guerrero Diamond Anniversary
Tampa Bay Rays Cognac Diamond Anniversary
Jered Weaver All-Star
You can catch the pack stream on Twitch.
Even before the Black Trout, the box was a strong one. A DJ LeMahieu Gold parallel numbered to 2011 was among the other pulls. He's one of the key rookies on the deep checklist. There was also a Cognac Diamond Anniversary Freddie Freeman, a parallel of his Series 1 Rookie Card.
What's It Worth?
The value of the 2011 Topps Update Black Mike Trout is tough to say exactly, but it'll be a lot should the collector decide to sell it. A Gem Mint BGS 9.5 copy sold for $124,230 through Goldin Auctions in March, 2021.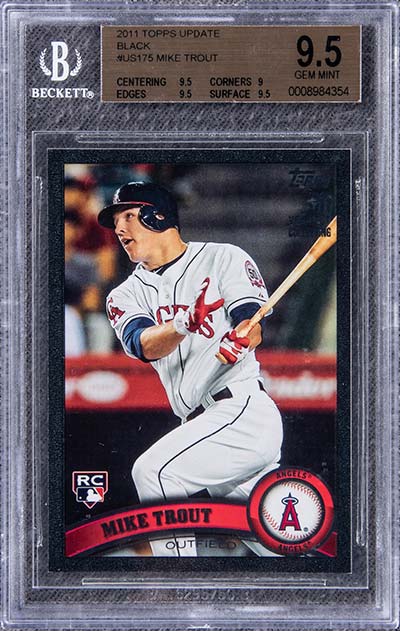 The only pack-inserted parallels of the Mike Trout Rookie Card with fewer copies are the one-of-one Platinum (which is on display at The National at the Topps booth) and Gold Canary and the four different one-of-one Printing Plates. A Diamond Anniversary Authentic Diamonds one-of-one was given away through the product's online code redemption program. A Hope Diamond Anniversary parallel also has 60 copies.