Kris Bryant Rookie Card Rankings
In a year of big-time rookies, Kris Bryant was been one of the biggest in 2015. Even if it wasn't clutch plays and walk-off home runs every night, he's lived up to a lot of the lofty expectations that come with being a second overall draft pick. And he's still very young. Not surprisingly, Kris Bryant Rookie Cards have garnered plenty of attention from both buyers and sellers from the moment they were released.
If you look to just base sets, there are more than 15 Kris Bryant Rookie Cards to go alongside with hundreds of parallels, inserts, autographs and memorabilia cards. Simply put, there's lots of choice out there for various budgets and baseball card preferences.
The cheapest Kris Bryant Rookie Cards come from basic sets that don't have a lot of added frills or premium enhancements. Despite Bryant's popularity, these lower-tier rookies can still be found for reasonable amounts equivalent to a pack or two.
A couple of cards that give off this no-frills appearance are actually some of the most valuable Kris Bryant Rookie Cards. His base cards in both 2015 Topps Archives and 2015 Topps Finest are short prints. And we're not talking the fairly common short prints like the ones found in sets like Topps Heritage. These are legitimately scarce and the price tags reflect this. In particular, expect the 2015 Topps Archives Kris Bryant SP to cost more than a lot of his signed cards.
Autographs
Speaking of autographs, some of Bryant's are considered Rookie Cards as they're part of the product's main set. While there is a range within these, understandably, all are among the most valuable Kris Bryant Rookie Cards. These are topped by his five autographed patch cards in 2015 Topps Dynasty. Each is numbered to just 10 copies. Like most players in the product, Bryant has multiple cards, each with a different photo.
So what are the most valuable Kris Bryant Rookie Cards? We're counting them down according to the Beckett Baseball Price Guide.
The following list covers Kris Bryant Rookie Cards from 2015 base sets. While he has cards dating back several years, these are usually considered insert or prospect cards. You can find plenty of Kris Bryant cards and compare prices in the Beckett Marketplace.
Most Valuable Kris Bryant Rookie Cards
Rankings are based on values in the Beckett Baseball Card Price Guide. Only base cards are included, not inserts.
17. 2015 Elite Kris Bryant Rookie Card #188
Parallels: 21st Century (/199), Inspirations (/83), Status Gold (/49), 21st Century Red (/21), Status (/17), Cyber Monday (/7), Status Black (1/1)
Buy on: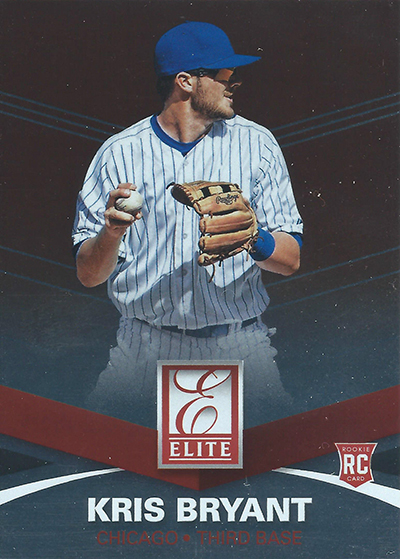 16. 2015 Topps Allen and Ginter Kris Bryant Rookie Card #85
Parallels: Mini, Mini A&G Back, Mini Black, Mini No Number (50 copies), Mini Red (/40), Mini Flag Back (/25), 10th Anniversary (/10), Glossy (1/1), Mini Framed Printing Plates Black (1/1), Mini Framed Printing Plates Cyan (1/1), Mini Framed Printing Plates Magenta (1/1), Mini Framed Printing Plates Yellow (1/1), Mini Glossy (1/1), Mini Wood (1/1)
Buy on: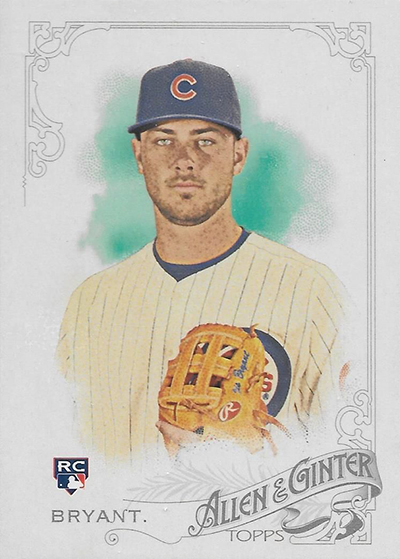 15. 2015 Bowman Chrome Kris Bryant RC #200
Parallels: Refractors (/499), Purple Refractors (/250), Blue Refractors (/150), Green Refractors (/99), Gold Refractors (/50), Orange Refractors (/25), Red Refractors (/5), Printing Plates Black (1/1), Printing Plates Cyan (1/1), Printing Plates Magenta (1/1), Printing Plates Yellow (1/1), Superfractors (1/1)
Buy on: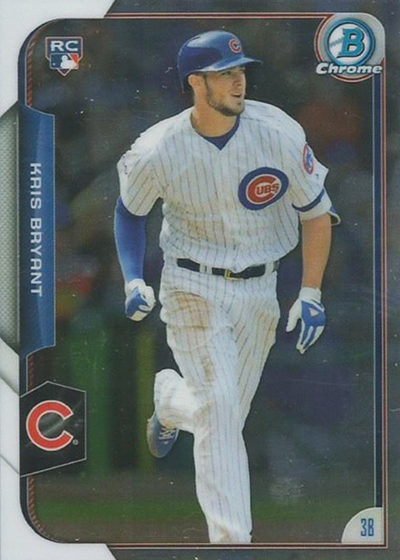 14. 2015 Topps Heritage '51 Collection Kris Bryant RC #25
Parallels: Mini Black Back, Mini Blue Back, Mini Gold Back, Mini Green Back, Mini Red Back
Buy on: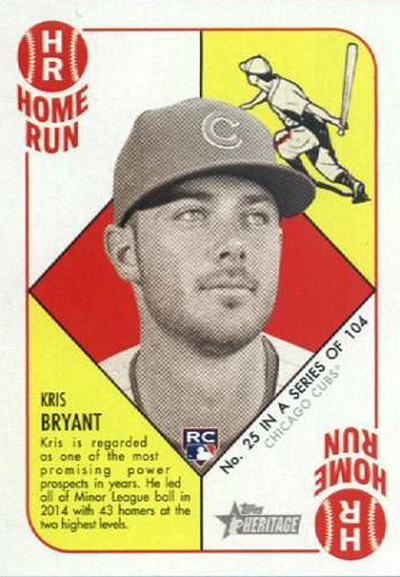 13. 2015 Bowman's Best Kris Bryant RC #50
Parallels: Refractors, Atomic Refractors, Blue Refractors (/150), Green Refractors (/99), Gold Refractors (/50), Orange Refractors (/25), Red Refractors (/5), Printing Plates Black (1/1), Printing Plates Cyan (1/1), Printing Plates Magenta (1/1), Printing Plates Yellow (1/1), Superfractors (1/1)
Buy on: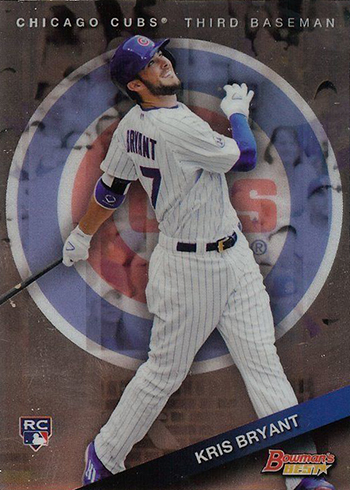 12. 2015 Topps Mini Kris Bryant RC #616
Parallels: Black (/10), Red (/5), Gold (1/1)
Buy on: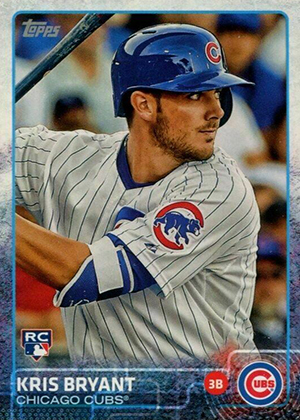 11. 2015 Topps Chrome Kris Bryant Rookie Card #112
Parallels: Refractors, Pink Refractors, Prism Refractors, Sepia Refractors, Purple Refractors (/250), Blue Refractors (/150), Green Refractors (/99), Gold Refractors (/50), Orange Refractors (/25), Red Refractors (/5), Printing Plates Black (1/1), Printing Plates Cyan (1/1), Printing Plates Magenta (1/1), Printing Plates Yellow (1/1), Superfractors (1/1)
Buy on: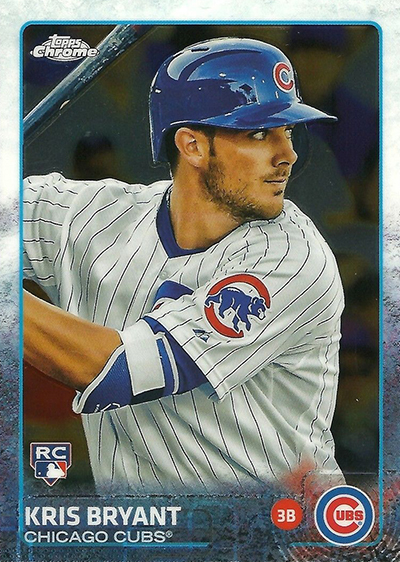 10. 2015 Topps Triple Threads Kris Bryant RC #73
Parallels: Amethyst (/354), Emerald (/250), Amber (/125), Gold (/99), Onyx (/50), Sapphire (/25), Printing Plates Black (1/1), Printing Plates Cyan (1/1), Printing Plates Magenta (1/1), Printing Plates Yellow (1/1), Ruby (1/1)
Buy on: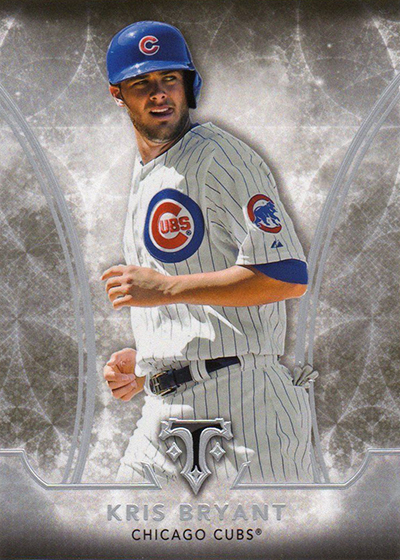 11. 2015 Allen & Ginter X Kris Bryant RC #85
Parallels: Mini, Mini A&G Back, Mini Silver
Buy on: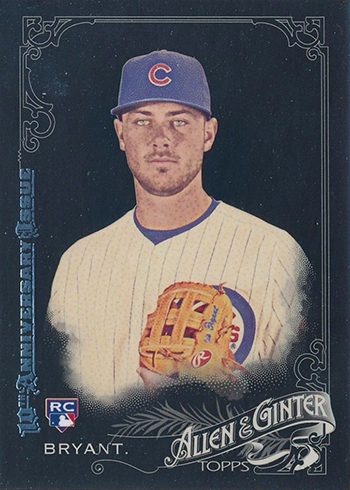 10. 2015 Topps Heritage Kris Bryant Rookie Card #725 SP
Parallels: Black and White, Blue Back, Gum Stained Back, Rever Stock, Mini (/100)
Buy on: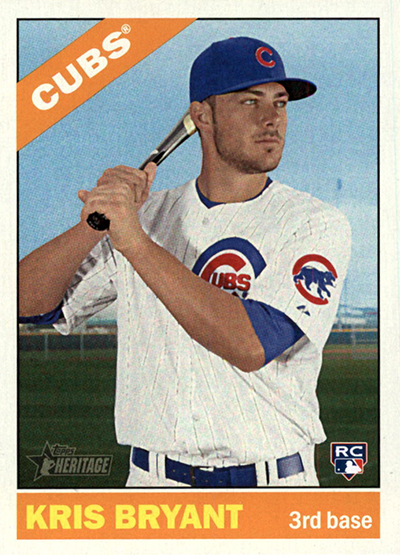 9. 2015 Topps High Tek Kris Bryant RC #HT-KB
Parallels: Chain Link, Diamonds, Dots, Grid, Pipes, Confetti Diffractors (/99), Sky Rainbow (/79), Gold Rainbow (/35), Clouds Diffractors (/25), Grid Red Orbit Diffractors (/5), Red Orbit Diffractors (/5), Black Galactic Diffractors (1/1), Black Rainbow (1/1), Grid Black Glactic Diffractors (1/1), Printing Proofs Black (1/1), Printing Proofs Cyan (1/1), Printing Proofs Magenta (1/1), Printing Proofs Yellow (1/1)
Buy on: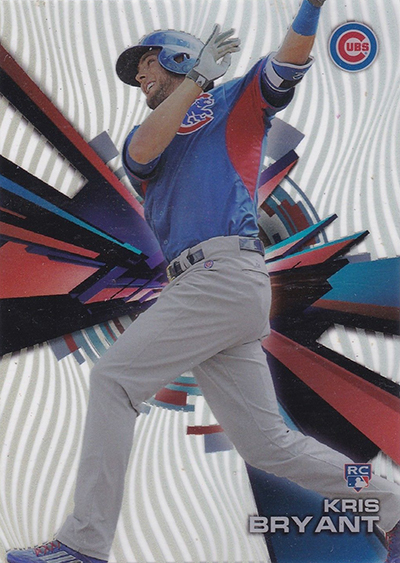 8. 2015 Stadium Club Kris Bryant RC #300
Parallels: Gold, Black (201 copies), Foilboard (/25), Black and White (17 copies), Members Only (7 copies)
Buy on: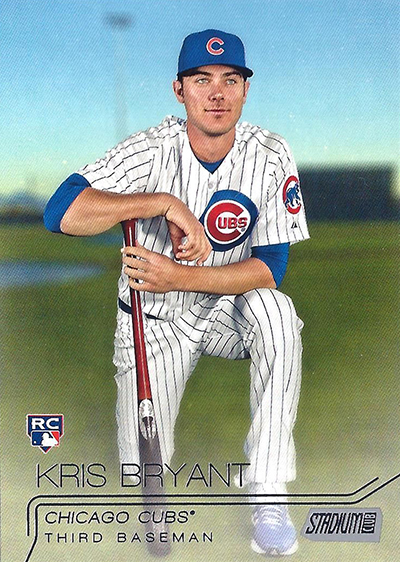 7. 2015 Topps Kris Bryant Rookie Card #616
Parallels: Limited, Pink, Rainbow Foil, Throwback, Toys R Us Purple, Gold (/2015), Factory Set Sparkle Foil (/179), Black (/64), Snow Camo (/25), Framed (/20), Clear (/10), Platinum (1/1), Printing Plates Black (1/1), Printing Plates Cyan (1/1), Printing Plates Magenta (1/1), Printing Plates Yellow (1/1)
Buy on: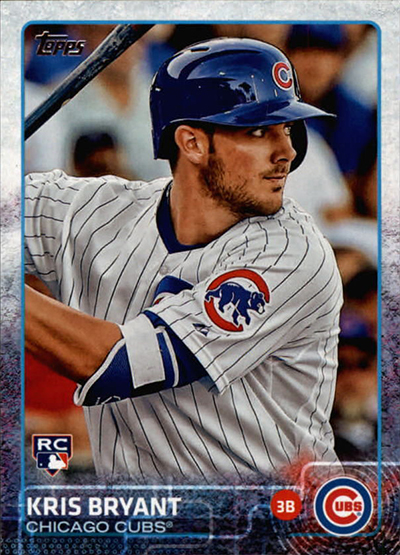 6. 2015 Immaculate Collection Kris Bryant RC Autograph /99 #148
Parallels: Blue (/49), Holo Gold (/5), Platinum (1/1)
Buy on: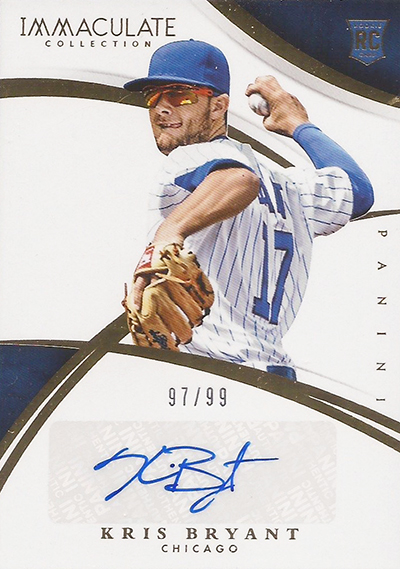 5. 2015 Finest Kris Bryant RC SP #111
Parallels: Refractors (/25), Red Refractors (/5), Superfractors (1/1)
Buy on: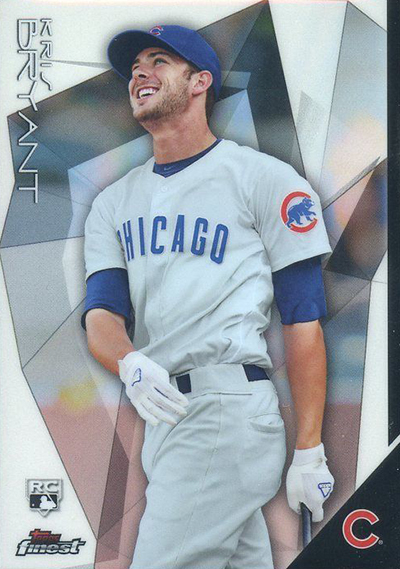 4. 2015 Panini National Treasures Kris Bryant RC #151 Auto Patch /99
Parallels: Purple (/49), Gold (/25), Black (/10), Green (/5), Brand Logo Tag Red (1/1), Laundry Tag Blue (1/1), Printing Plates Black (1/1), Printing Plates Cyan (1/1), Printing Plates Magenta (1/1), Printing Plates Yellow (1/1)
Buy on: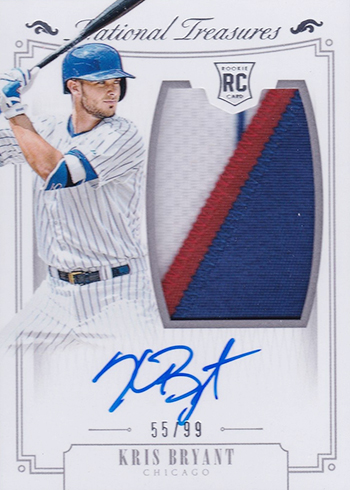 3. 2015 Topps Five Star Kris Bryant RC Autograph #FSA-KB (Redemption)
Parallels: Gold (/50), Rainbow (/25), Emerald (/5), Five Star (1/1)
Buy on: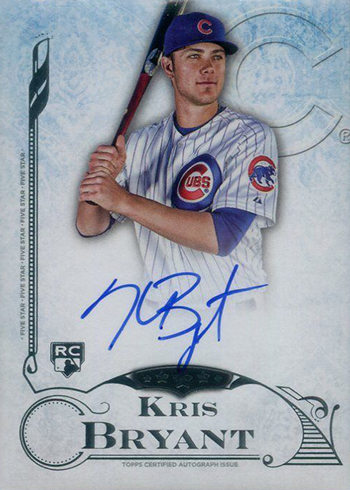 2. 2015 Topps Archives Kris Bryant RC #314 SP
Buy on: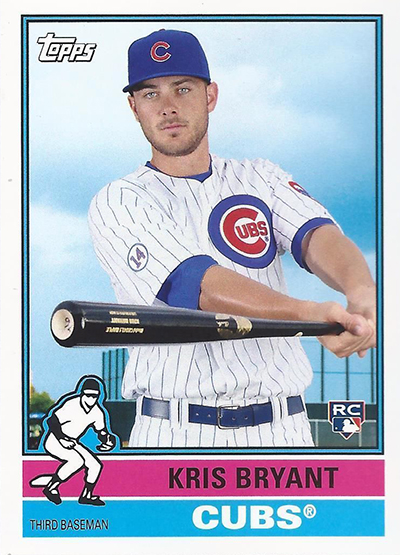 1. 2015 Topps Dynasty Kris Bryant RC Auto Patch /10 (5 different)
Parallels: Emerald (/5), Red (1/1)
Buy on: