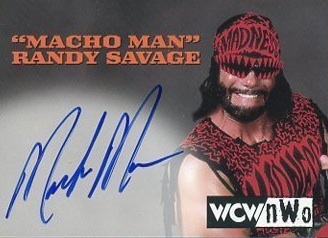 By Chris Olds | BSCM Editor
Former WWE world champion Randy "Macho Man" Savage — who was known for his colorful ring attire, successful career in the heyday of the 1980s professional wrestling explosion and at least one very memorable commercial endorsement — died of an apparent heart attack while driving in Florida on Friday. He as 58.
Savage, born Randy Poffo, was a two-time WWE heavyweight champ, and his match with Ricky "The Dragon" Steamboat for the Intercontinental title at WrestleMania III is considered one of the greatest matches in the history of wrestling's premiere event. He was a high-flying main event performer alongside Hulk Hogan in the late 1980s glory days of the WWE (then WWF) with his wife and ringside valet Miss Elizabeth often by his side.
Before he was a professional wrestler, he briefly played minor league baseball in the St. Louis Cardinals and Cincinnati Reds organizations before he turned to his family's business after an injury. His father, Angelo Poffo, was a wrestler and his brother, Lanny, also was a WWE performer best remembered as "The Genius."
While Savage never appeared on a baseball card in the Beckett.com database, he does appear on 103 different cards as a wrestler. He has two certified  autographs — a 1994 Action Packed autographed promo card limited to just 500 copies and a card in the 1999 Topps WCW/nWo wrestling set, which typically sells for $150 or less.
One of his memorable commercial endorsements came outside the ring was for Slim Jim snacks where his gravelly voice and high-energy personality made "Ohhhhh yeah" and "Snap into a Slim Jim!" a part of the cultural lexicon.
Savage had not performed for the WWE since 1994 when he moved to Ted Turner's World Championship Wrestling where he was a four-time champ. He has largely been out of the wrestling spotlight completely since 1999. He did appear in the first Spider-Man movie — as a wrestler — and had made several appearances on television shows and low-budget films after his career ended.
Because Savage has largely off the wrestling radar — he just recently signed a deal to appear on toys with the WWE — he hasn't appeared on any trading cards since 1999. Because of that, he has zero memorabilia cards and a limited amount of memorabilia available.
Despite the new WWE deal, a Topps official confirmed on Friday afternoon that Savage will not be appearing on any new WWE cards at this time.
Chris Olds is the editor of Beckett Baseball. Have a comment, question or idea? Send an e-mail to him at colds@beckett.com. Follow him on Twitter by clicking here.