Randy Johnson is my lone pick for the Hall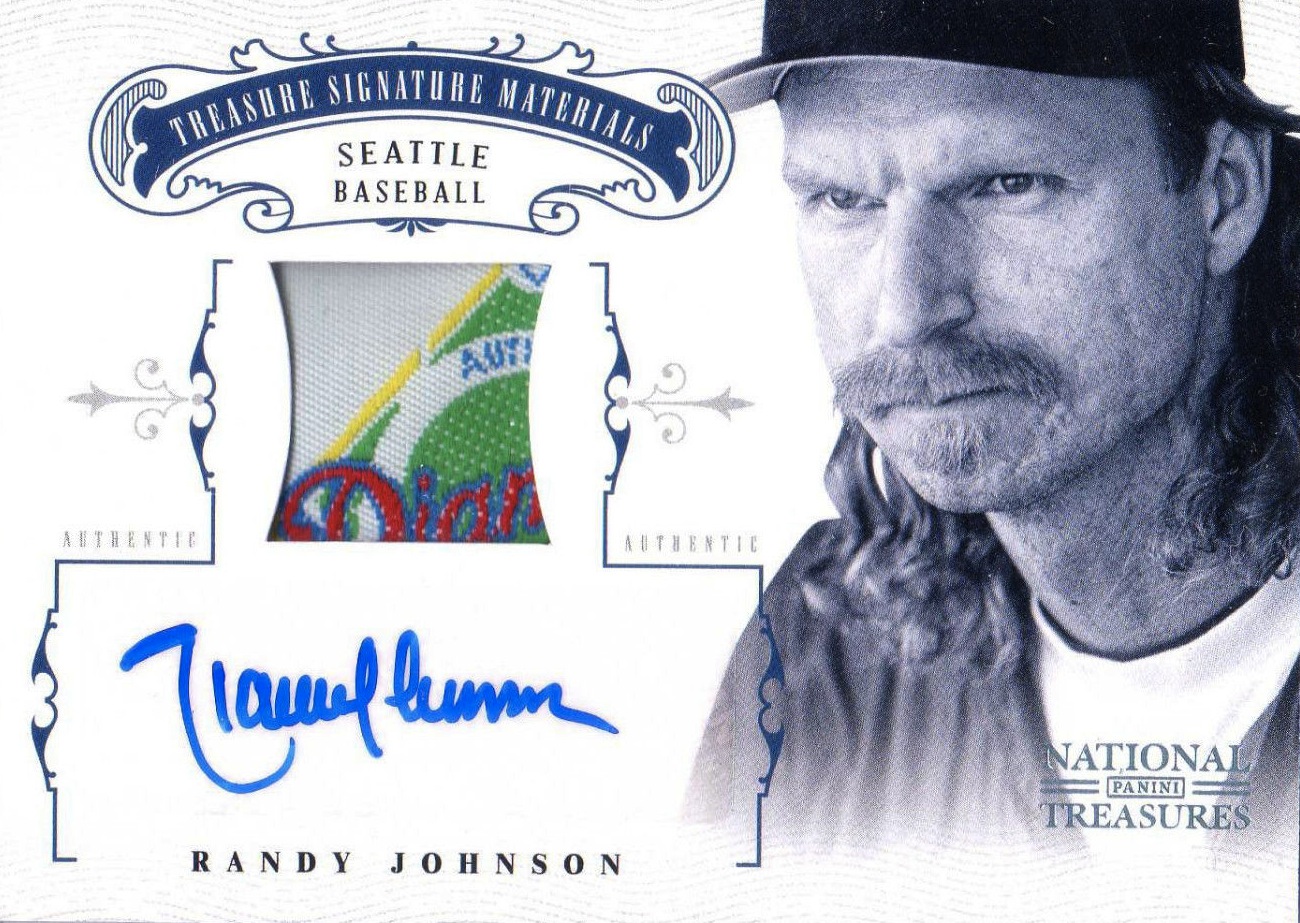 Update: Johnson was elected to the Hall along with Pedro Martinez, John Smoltz and Craig Biggio.
—
By Chris Olds | Beckett Baseball Editor | Commentary
"There can be only one."
Those were my thoughts on the Baseball Hall of Fame voting as we headed into the announcement of this year's inductees this afternoon at 2 p.m. Eastern. In my mind, the only lock for the Hall via the Baseball Writers' Association of America is Randy Johnson, the hard-throwing lefty who won 303 games, won five Cy Young Awards and won a World Series title in 22 seasons.
Oh, and he also ranks second on the all-time strikeouts list behind Nolan Ryan.
Could there be more than one? Sure, but I am not counting on it with all the variables and morals debates that go into the voting. For the record, I'm a "no" on Pete Rose (who is not on the ballot), Barry Bonds and Roger Clemens — and Mark McGwire doesn't have the numbers, besides homers, anyway. Disagree with me? Comment below.
The irony here for collectors Johnson is the only one of those mentioned who perhaps didn't captivate the masses with single-season or other historic performances that sold cardboard en masse at some point. Ryan? Strikeout king. Rose? Hit king. Bonds and McGwire? Single-season home run kings. Clemens? King of age-defying dominating comebacks. Sure, Johnson rattled off four Cy Youngs in a row in Arizona, but I'm not sure he was much of a hobby darling despite his ultimate final status as an undeniable all-time great.
Why is that? One, it's harder for a pitcher to consistently sell cardboard unless that last name is Ryan. It's just true. Sure, there are big names but they don't often stay that way long. What goes up must come down isn't just for card values it's for win totals, too. (Looking back, Johnson won 20 games just three times.) Two, Johnson played for so many teams that I think that hurts him — Expos, Mariners, Astros, Diamondbacks, Yankees, Diamondbacks again, Giants. That creates a good bit of variety on cardboard, but splinters a fan base that buys cards. Three, timing. His Rookie Cards arrived in 1989 — a year that's ultimately pretty forgettable except for the Upper Deck set. Johnson's Expos cards (and Mariners cards in 1989 update sets) take a definite back seat to another future Hall of Famer, Ken Griffey Jr., among others. He shouldn't, but he just does.
Johnson's autograph hasn't been plentiful through the years — he has only 930 different certified autographs among his 10,838 cards valued at more than $112,000 (excluding rarities) in the Beckett database. Griffey, for example, has 1,684 autos — and still might be more-plentiful per card than Johnson.
To me, Johnson is the only lock on this year's ballot. (Beckett.com readers agreed.) Sure, others such as John Smoltz, Pedro Martinez and Craig Biggio might come close. The ballot limit of 10 and voters' hangups about the morals clause might derail the chances of others down the line, too.
What are the instructions for those who have a ballot? Simple, the "voting shall be based upon the player's record, playing ability, integrity, sportsmanship, character, and contributions to the team(s) on which the player played" — there are no other parameters. They either are — or they aren't — and that decision is up to the voters. Their collective notion gets a player into the Hall if they appear on 75 percent of the ballots cast. 
Who will get in? Who will inevitably be "snubbed" or come oh-so-close? We'll find out in a few hours.
Chris Olds is the editor of Beckett Baseball and Beckett Sports Card Monthly magazines. Have a comment, question or idea? Send an email to him at colds@beckett.com. Follow him on Twitter by clicking here.