Random sightings from The National …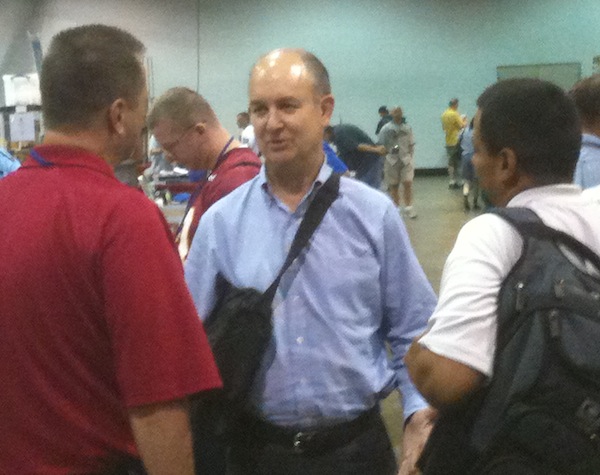 By Chris Olds | Beckett Baseball Editor | Commentary
One of the best things about the National Sports Collectors Convention are the surprises that one can find by merely walking the floor.
And it's got little to do with the items for sale, but rather the people and the items that aren't up for grabs.
For example, this year's National marked the first time I actually met Dr. Jim Beckett, the founder of Beckett Media. While he's no longer involved with the publishing company, he's still involved with the hobby and charitable endeavors and was soaking up the sights at this year's show.
Here, he's caught chatting with Panini America's Mike Payne and Carlos Torrez.
See a sampling of a few more sightings after the jump …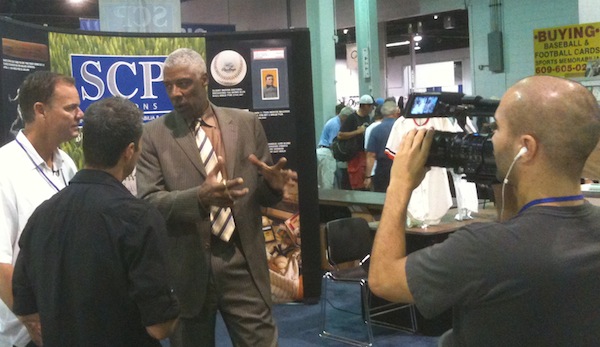 Early on in the show, I was told that "Dr. J" was outside our booth over at SCP Auctions — needless to say I initially had expected Jim Beckett, having forgotten that Julius Erving has a pretty big auction with the company coming up. (My bad.)
—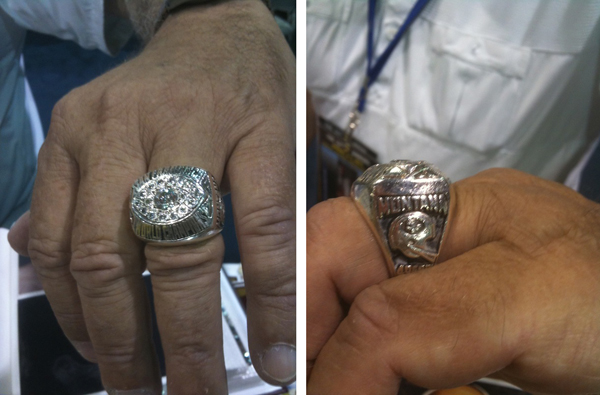 Sure, you'll see Super Bowl rings on the fingers of a few signers over at the TRISTAR autograph pavilion at the NSCC, but it's not often you'll see them on the fingers of SuperCollectors who stop by the Beckett Media booth. That's a Joe Montana ring if you can't tell. (He had plenty more to show off, but didn't want to be filmed, citing security concerns at his home.)
—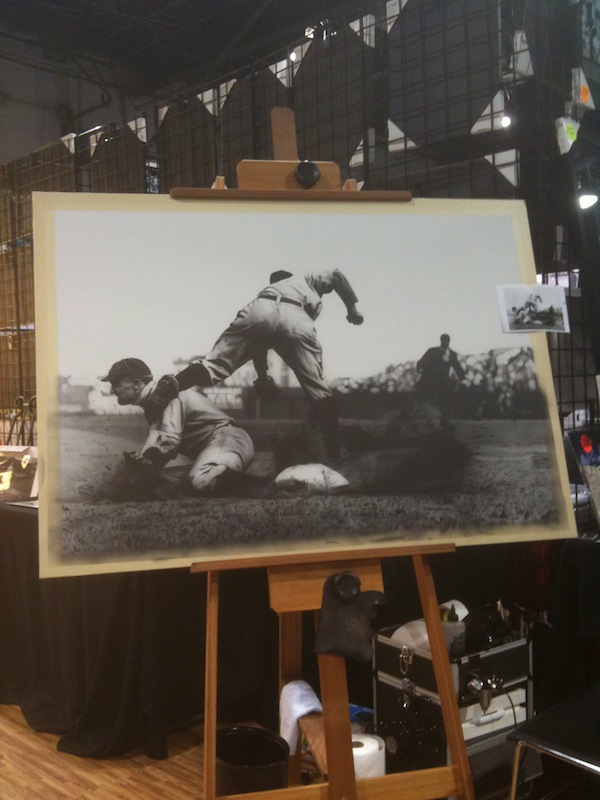 One of Charles Conlon's most famous photographs — Ty Cobb sliding into third base — was a work in progress by New York-based artist Adam Port, who was commissioned by John Rogers for the show and an upcoming gala event later this fall.
—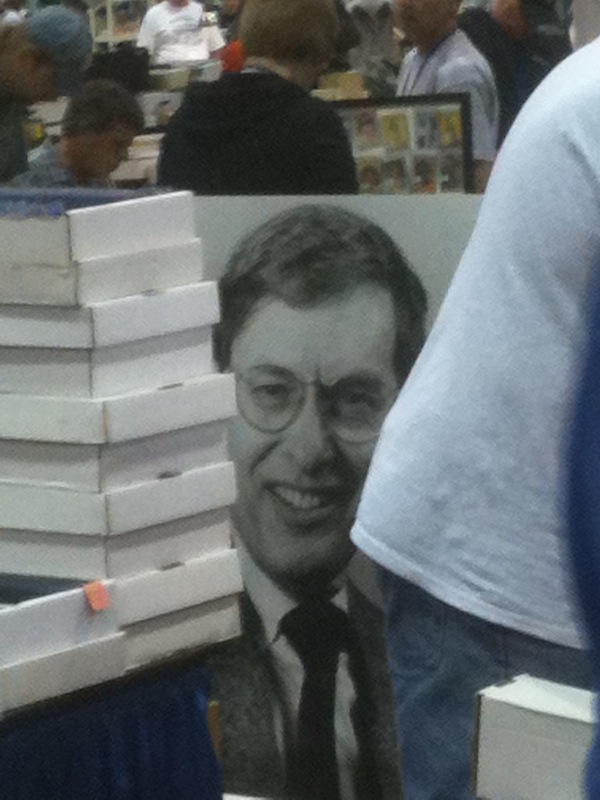 MLB Commissioner Bud Selig had his eye on the proceedings in at least one booth. (I really should have checked the price on that one … would be perfect to take up my one entire wall in the office.)
—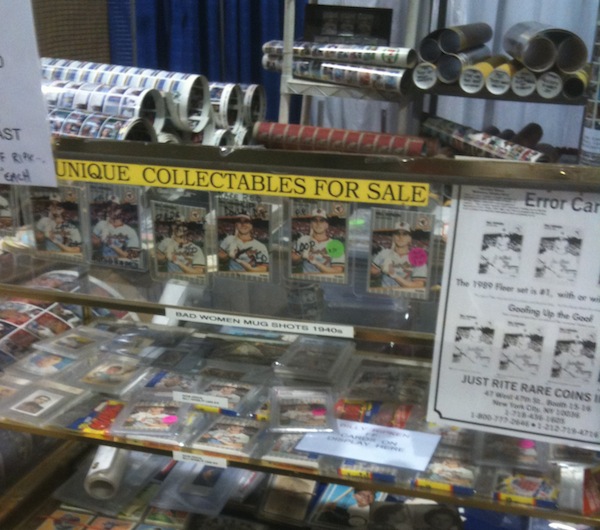 It's been a while since Billy Ripken and his 1989 Fleer card were high on the hobby's radar, but that didn't stop one dealer from having a full range of variations — and even signed copies of the infamous card — up for grabs at the show.
—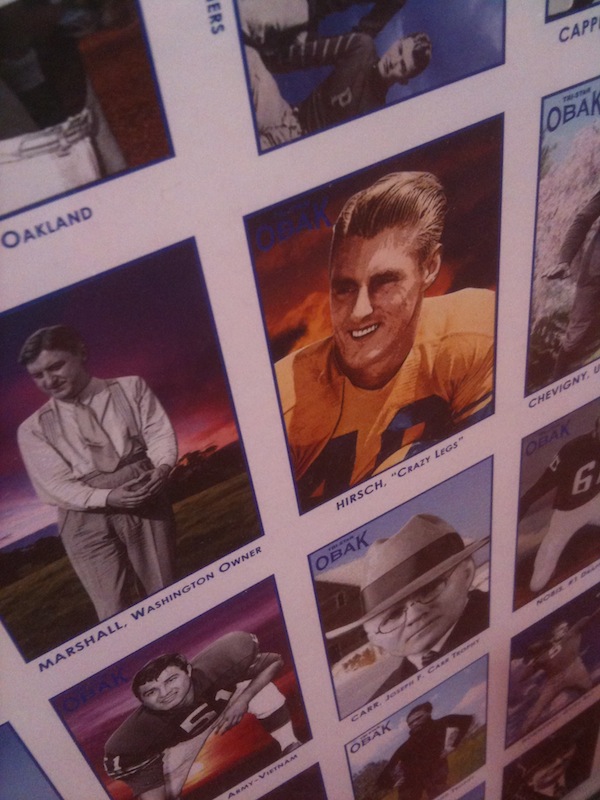 Last but not least, TRISTAR's forthcoming Obak football set was on display in its entirety via an uncut sheet seen at the company's booth. I, personally, can't wait to see that one since that brand has offered a lesson in the game each year of its existence for baseball.
I'll have more to come soon … tons of images and videos still to process.
Chris Olds is the editor of Beckett Baseball magazine. Have a comment, question or idea? Send an email to him at colds@beckett.com. Follow him on Twitter by clicking here.