Rally Monkey, Hank the Ballpark Pup Among 2016 Topps Opening Day Mascot "Rookie Cards"
By Ryan Cracknell | Hobby Editor
Over the past few year, Topps Opening Day has become the home of the mascot card. And while there have been plenty of costumed cheerleaders featured over the years, the 2016 Topps Opening Day Baseball Mascots checklist introduces a couple of critters to the mix — Rally Monkey and Hank the Ballpark Pup.
As the role of the mascot continues to evolve, many teams are adopting secondary characters to entertain kids and get crowds going. The cynics might also point to the merchandising opportunities as well. So the combination of growing rosters and limited checklists means that the Opening Day Mascots list is prone to shift.
And while few will complain about seeing the Phillie Phanatic year after year (perhaps with some help from Jose Bautista in 2017?), not all mascots are created equal. So it's good to shake things up a bit.
Rally Monkey has been a thing with the Los Angeles Angels for a little over a decade. And it was seemingly by accident after an Angels comeback came after an Ace Ventura clip in 2000. A couple of years later, team found themselves on a run towards the World Series and it was all-out Rally Monkey-Mania.
Today, the role of Rally Monkey is played by a white capuchin.
According to the Beckett Baseball Card Database, before the 2016 Opening Day Mascots card, Rally Monkey has only appeared on a trio of playing cards. These are not generally considered to be traditional baseball cards.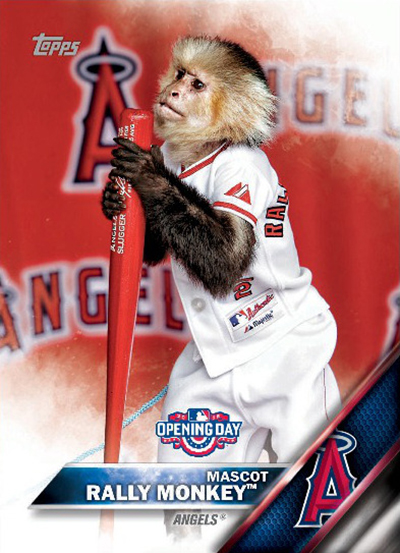 Like Rally Monkey, Hank the Ballpark Pup became a baseball fixture by accident. The small dog was taken in by the Milwaukee Brewers after he was found at the team's spring training complex a couple of years ago. The dog was injured after being hit by a car. After Hank's story was picked up by the media, the team announced they adopt him.
While Hank has his share of merchandise, this is his first official trading card also.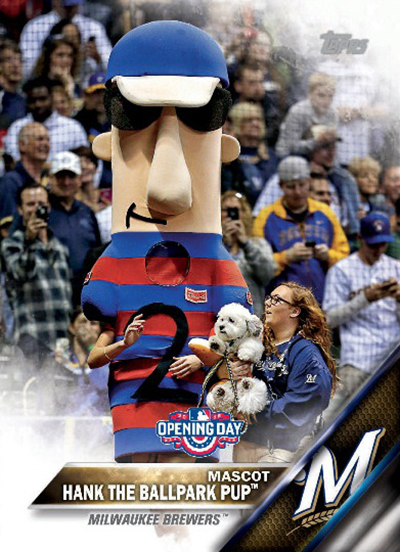 Here's the full 2016 Topps Opening Day Mascots checklist:
M-1 Paws, Detroit Tigers
M-2 Billy the Marlin, Miami Marlins
M-3 Rally Monkey, Los Angeles Angels
M-4 Wally the Green Monster, Boston Red Sox
M-5 Mr. Red, Cincinnati Reds
M-6 Arizona Diamondbacks
M-7 Orbit, Houston Astros
M-8 Clark, Chicago Cubs
M-9 Mrs. Met, New York Mets
M-10 TC Bear, Minnesota Twins
M-11 Atlanta Braves
M-12 Slider, Cleveland Indians
M-13 Dinger, Colorado Rockies
M-14 Kansas City Royals
M-15 Hank the Ballpark Pup, Milwaukee Brewers
M-16 Phillie Phanatic, Philadelphia Phillies
M-17 Pirate Parrot, Pittsburgh Pirates
M-18 Swinging Friar, San Diego Padres
M-19 Mariner Moose, Seattle Mariners
M-20 Fredbird, St. Louis Cardinals
M-21 Chicago White Sox
M-22 Oakland Athletics
M-23 Raymond, Tampa Bay Rays
M-24 Rangers Captain, Texas Rangers
M-25 Toronto Blue Jays
Comments? Questions? Contact Ryan Cracknell on Twitter @tradercracks.