R.A. Dickey's auto supply is low & demand is high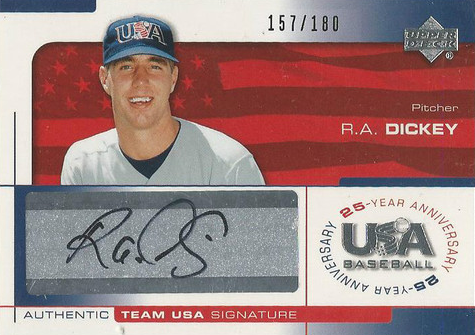 By Chris Olds | Beckett Baseball Editor | Commentary
One of the most-interesting stories in baseball this year might be the emergence of New York Mets pitcher R.A. Dickey, a guy who has the best record in MLB and some of the hottest cards around.
And he's perhaps languishing in your commons boxes.
Dickey has an 11-1 record with a 2.00 ERA with 103 strikeouts in 99 innings, and he's got just two Rookie Cards and a total of just three certified autographs despite making his cardboard debut way back in 1997.
Now, the guy with a 52-51 career record and a 4.09 ERA just might end up starting the All-Star Game.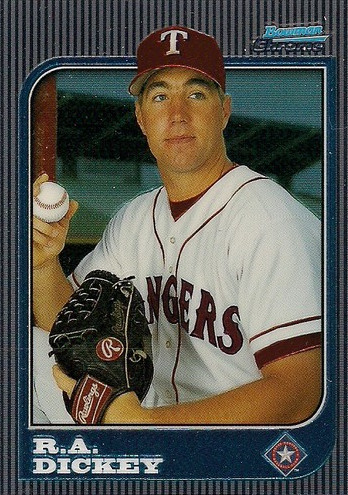 Dickey's RCs are in the 1997 Bowman and 1997 Bowman Chrome sets, cards that have clearly electrified some fans' interest as the Chrome card now sells for $25 and checks in on the upcoming Beckett Sports Card Monthly Baseball Hot List at No. 14  alongside the likes of Bryce Harper, Mike Trout and Chris Sale. (Need a Dickey checklist or OPG? Click here.) The International Refractor version of the card from the popular set? It checks in at $150, while the standard Refractor is up to $100.
"In just a matter of weeks, those cards went from lone forgotten Semi-star status to some of the hottest and most desirable cards in the hobby," said Beckett Baseball Senior Market Analyst Brian Fleischer who tracks baseball card prices daily for Beckett.com. "His '97 Bowman Chrome RC began the season at $1.50."
Interestingly, Dickey has been so far off the radar in his career that he has a total of just 149 total cards — and that lack of cardboard is perfectly apparent when it comes to tracking down his ink.
His lone autograph appearance — one card, three versions — is in the 2004 USA Baseball 25th Anniversary set where his black-ink card is limited to just 180 copies and has sold for as much as $150. His blue-ink card? It's limited to just 60 and is $250, while his red-ink card is limited to just 10 copies and is too scarce to price.
"It started the season at just $10," Fleischer said of the black auto. "It's without a doubt one of the most meteoric rises in recent hobby memory, but begs the question … is the fall just around the corner?"
That's a total of just 250 certified autographs — not enough to fill some New York sports bars let alone the want lists of a few Mets fans or baseball lovers out there amazed by his success story this season.
And, again, like all of his other cards, they were likely in commons boxes not that long ago.
Chris Olds is the editor of Beckett Baseball magazine. Have a comment, question or idea? Send an email to him at colds@beckett.com. Follow him on Twitter by clicking here.