Quick look at Press Pass' 2012 Ignite Racing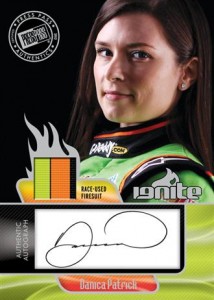 By Susan Lulgjuraj | Contributing Editor
Racing collections will really heat up in May when Press Pass releases Ignite racing – no pun intended.
With several races on the docket by the time this set will be released, Ignite will be the first set to feature pictures from the new racing season, including Danica Patrick's NASCAR Sprint Cup Series Rookie Card.
The 20-pack box will feature five cards in every pack with two hits in every box including an autographed memorabilia card and memorabilia card.
Press Pass is putting a first in Ignite – autographed quadruple memorabilia cards called Supercharged Signatures. The memorabilia comes from several different sources such as firesuits, gloves, shoes and sheet metal from the car. It has had similar cards in other recent products with four memorabilia pieces, but no autographs.
Press Pass really seems to revamping its style when it comes to racing cards. Its first release of the year, 2012 Press Pass NASCAR racing has seen several cards sell for more than $100 on the secondary market – mostly autographs from Patrick, Jeff Gordon and Kasey Kahne.
Total Memorabilia is set to come out later this month with a number of great looking hits.
What do you think of Press Pass' cards this year?
Keep checking Beckett.com for more information on Ignite Racing as its released.
Susan Lulgjuraj is a contributing editor for Beckett Media. You can email Susan here. Follow her on Twitter here.