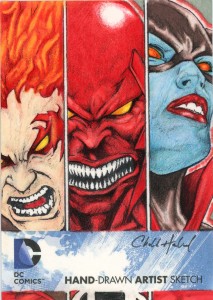 By Susan Lulgjuraj | Beckett Sports Card Monthly Editor
DC Comics The New 52 trading card line should be an exciting one for fans of the relaunched series. It comes out with fresh art, and it's been several years since DC Comics had a dedicated set.
Beckett previewed the set earlier this week, including five exclusive preview images sent to us by Cryptozoic.
One of the unique features of the set is that it was written by DC Comics writer Adam Beechen, whose first comic for DC was Justice League Unlimited #1. Beechen previously worked with Cryptozoic's art director David Baron on "Batman Beyond," and recommended Beechen for the job.
Beechen doesn't remember exactly how long it took to finish all the cards. He worked on them in groups, but he loved every moment.
"Didn't feel like a long time, though, because i was enjoying learning about the characters," Beechen said.
Here's a Q&A with Beechen about the upcoming set.
Q. You had been writing for DC Comics for some time, what was it like learning a whole new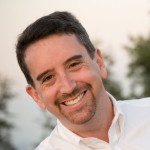 lore for these characters?
A. After moving out of the DCAU and into the DCU to write books like Robin, Teen Titans and Countdown to Adventure, I was pretty steeped in the long-standing history of all the DC characters — Plus, I'd been reading the books since I was a kid.  So when the New 52 launched, it took some adjusting.  Some characters changed more than others, obviously, but mostly on a detail level and not fundamentally.  It didn't take too long to get up to speed.
Q. What was this experience like for you compared to writing comics?
A.  It's a lot more like writing solicitation copy for a comic than writing a comic itself.  You're writing blurbs, not stories, so you're trying to get the most information about the character out there in the fewest number of words, and make it punchy and exciting besides.  Definitely not easy.  But I was a journalism student in college, and our mantra was, "Be brief and be brilliant," so I stuck with that.  Whether the copy is brilliant or not, I don't know, but it's definitely brief!
Q. How does it feel to see your work on a trading card format?
A. I'll let you know when I actually see them!  But the idea of it thrills me.  I collected cards as a kid, and you never stop to think that someone must have written the copy on the back.  If I had, I'm certain I'd never have thought I'd grow up to be that person.  To be on the production end of a hobby I enjoyed so much when I was younger…It's a dream come true, like writing for comics and television.
Q. What unique issues came up when writing the cards?
A. I guess the hardest thing was taking the characters that didn't change a whole lot and trying to make them sound interesting and fresh for the reader.  It took a little thinking to find the right angle in those cases.
Q. Do you have a favorite card in the set?
A. The Joker, definitely.  It's impossible to write about that character in any context and not have fun doing it!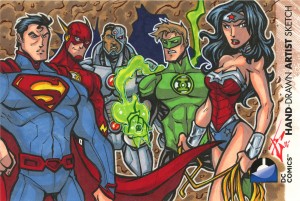 Susan Lulgjuraj is an editor for Beckett Sports Card Monthly. You can email her with comments, ideas or questions here. Follow her on Twitter here.