Pull of a Lifetime: 2019 National Treasures Ty Cobb/Babe Ruth Cut Autograph Dual Bat Relic
Kelly Clarkson said it best: "Some people wait a lifetime for a moment like this."
We don't know if Andrew had the song stuck in his head. Like, what would be going through your head if you pulled a 2019 Panini National Treasures Babe Ruth/Ty Cobb Autograph Dual Bat Relic 1/1?
Yeah. Hard to imagine.
Andrew, 34 years old from Huntington Beach, California, reacted with elation, surprise and numbness. The National Treasures box was a $500 Christmas present to himself, which he purchased at Baseball Cards Plus (@surfcitycards). A lifelong collector, he thought he would get some good cards out of it.
Little did he know.
First, he pulled a Giancarlo Stanton button relic, a "cool card." Then he pulled a Pete Alonso 8-piece relic, Keston Hiura autograph relic card, a Carter Kieboom autograph relic and an autograph relic of Whit Merrifield.
"I was completely content on my pulls at this point," Andrew wrote on his blog.
The Pull of All Pulls
We'll let Andrew (@agcards85) take it from here: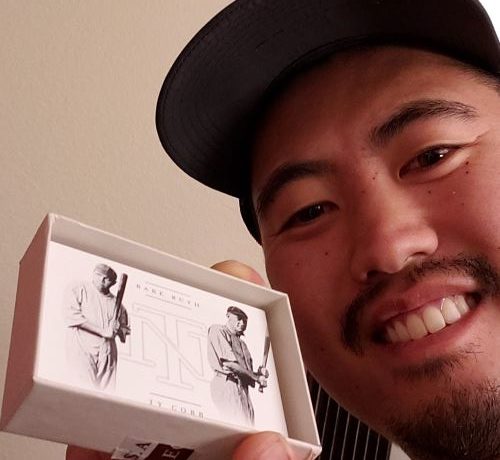 "As I slowly revealed the booklet with a blank cover card, I saw the name Ty….The first name that came to mind was obviously Ty Cobb, so I knew I had something special. At this point, I was thinking, wow, I just pulled a three-page booklet of Ty Cobb. I was just thinking relic, not even autograph at this point. As I slid the cover card over more, I saw the name Babe. At this point, I was not believing what I was seeing. I knew I had something very, very special, but I was still thinking it was going to be a relic of Ty Cobb and Babe Ruth, nothing more.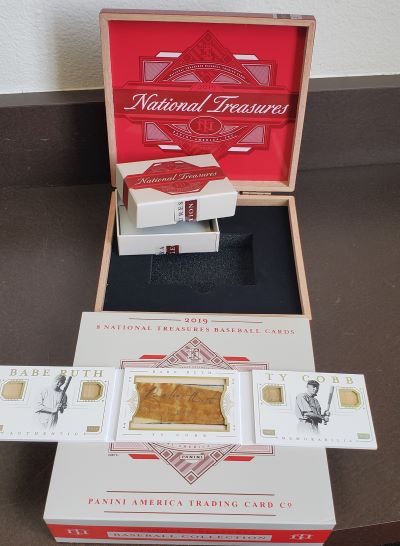 "As I opened the first part of the three-page booklet, I saw the words 1-of-1 in fancy gold foil italicized lettering. Things were really heating up in my mind and the possibility of what was in front of me was starting to numb my brain with disbelief and shock. It was two legendary autographs!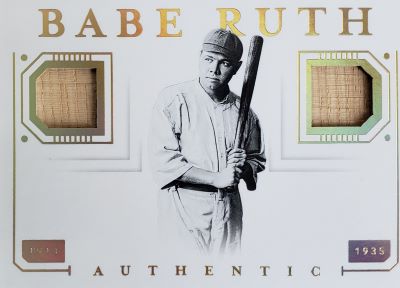 "What was I looking at? Could this be? Was I in fact looking at a Babe Ruth and Ty Cobb autograph in front of me? It couldn't be, I actually was thinking I received a cutout of the bat with their auto imprinted from the barrel like they do on baseball bats. I could not grasp my mind around the fact that there was a Babe Ruth and Ty Cobb autograph in my hands. I still didn't quite believe what I had.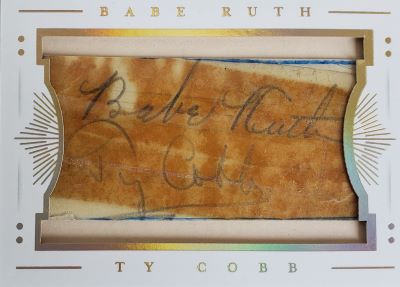 "As I slowly unfolded the full three-part booklet, I was amazed at what I had in front of me. To the left was two pieces of Babe Ruth's bat and to the right, was two pieces of Ty Cobb's bat. Dead center was two autographs. At this point, it all clicked. I had just pulled the cover story card of this set! I had the bat relics and the autos of two baseball legends."