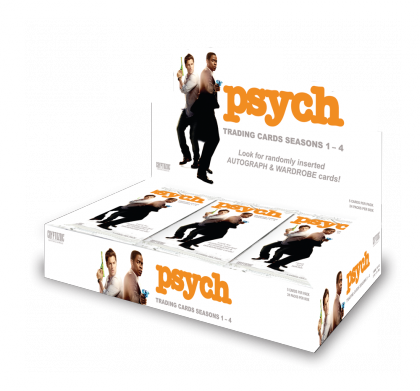 By Susan Lulgjuraj | Beckett Sports Card Monthly Editor
When Cryptozoic announced its newest television licenses, one immediately jumped out.
Psych is a popular television show on USA with a quirky cast, but the main cast may not even be the most intriguing aspect of the product when it comes out this summer. The show has had a large amount of guest stars.
"The main reason I wanted us to go after Psych was the huge line-up of guest actors. Not only will there be a nice line-up of the main cast and guest actors for the first release, I also plan to go back and release updates so that we can continue to build on that really great autograph collection," wrote Cryptozoic product manager Miranda Charsky on the company blog.
Charsky wasn't kidding. The list of guest actors ranges from well-known movie actors to celebrity sports stars.
A quick look at a list shows Ernie Hudson, Cybill Shepherd, Kristi Swanson, William Shatner, Jaleel White, Jim Beaver, Wade Boggs, John Cena, Corey Feldman, Danny Glover, C. Thomas Howell, Stacy Keibler, Christopher Lloyd, Carl Weathers, Kenan Thompson, George Takei, Mena Suvari, Molly Ringwald, Freddie Prinze Jr., Jason Priestley, Martin Mull and Cheech Marin as some who have appeared on Psych.
But there are probably about 100 people more Cryptozoic can grab out of the pool.
The first series will focus on Season 1-4, cutting down a bit of the list. The product will also feature wardrobe cards from the entire cast.
The base set will consist of 63 cards and there will be three chase sets:
– Undercover: showing some of the crazy outfits characters have worn throughout the show
– Psychic moments: Shawn's best psychic reveals
– Henry's Wisdom: focuses on Shawn's training from Henry
Which guest star do you hope signs for Psych?
Susan Lulgjuraj is an editor of Beckett Sports Card Monthly. You can email her here with questions, comments or ideas. Follow her on Twitter here. Follow Beckett Media on Facebook and Twitter.