PSA 10 Wayne Gretzky rookie card up for auction once again
The Wayne Gretzky rookie card from the 1979-80 O-Pee-Chee Hockey set has long been considered one of the hobby's most celebrated and iconic cards and finding a high-grade copy can be a challenge for even the most advanced collectors – even if they have deep pockets.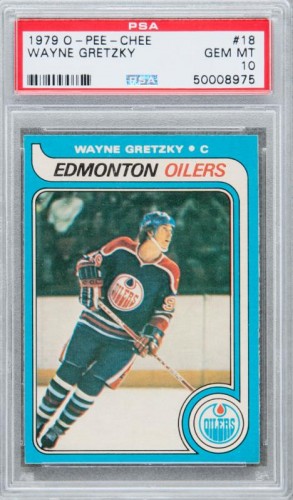 Now, collectors have a chance to own the only PSA 10 graded version of the card as it has been put on the block by Goldin Auctions. This card is expected to establish a new record when the company's 2016 Premium Live Auction draws to a close on August 4 at the National Sports Collectors Convention in Atlantic City.
"The fact that just one card has achieved this perfect grading is remarkable. With the recent surge in interest among serious collectors for high-grade examples of rookie cards, we expect this Gretzky card to establish a new benchmark," said Ken Goldin, Founder of Goldin Auctions. "The average sales for a PSA 9 Gretzky's has increased 600% in the past five years. If this card were to see a similar increase, it might become hockey's first $500,000 trading card."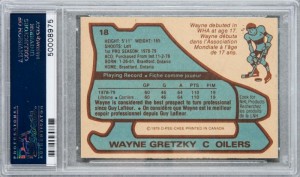 This particular card has an interesting history as it was previously sold back in 2011 via SCP Auctions for an impressive $94,162.80. The card still has the same serial number, 50009785, but it appears to have been reholdered due to the presence of a PSA hologram on the label. Previously, the card had been housed in a holder from Beckett Grading Services and had a grade of 9.5 before selling for $50,000 on eBay. According to PSA's registry, the company has graded 3,727 copies of the O-Pee-Chee Gretzky rookie card to date. Only one thus has received the PSA 10 grade.
While some collectors may initially express some concern about its rough edge, it is simply something which is normal for O-Pee-Chee cards from this era. According to hobby lore, the company used wires to cut through stacks of uncut sheets, creating the infamous uneven edges.
As an interesting side note about the card, the original photo of Gretzky was taken by longtime hockey photographer Steve Babineau when the Edmonton Oilers visited the New England Whalers during the World Hockey Association's final season of 1978-79.
Stephen Laroche can be found on Twitter @Stephen_Laroche.