PSA 10 1956 Topps Mickey Mantle sells for $115,000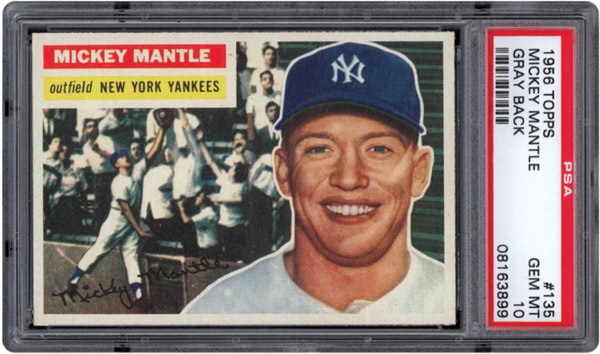 By Chris Olds | Beckett Baseball Editor
A BGS 10 Michael Jordan Rookie Card may have gotten the early headlines in a recent Memory Lane Inc. event, but it was The Mick who hit the longest home run.
The big bopper in Memory Lane's "I Own It Now" sale was a PSA 10 copy of Mickey Mantle's 1956 Topps card that sold for $115,000 as part of more than a half-million dollars in sales for the Tustin, Calif.-based company.
This card is not a stranger to the auction block, either, as, according to Memory Lane, the Mantle had previously sold for $40,000 in 2005 and for more than $80,000 in a previous 2008 sale.
"The selling prices of some of the cards in I Own it Now illustrate that even in a bad or struggling economy, someone wants the best and is willing to pay to get it," said Memory Lane's J.P. Cohen in a release.  "It's fun for us to sell these cards, but it's also an eye-opening experience to see the following that some of the hobby's best attract."
Mantle also highlighted other top sales as a 1952 Topps Mantle in PSA 8 grade sold for more than $70,000 via a best offer, while an autographed 1935 Zeenut Joe DiMaggio card (with coupon) sold for $19,995. It was originally part of the Barry Halper Collection, sold for $19,995.
"This was our best I Own it Now event so far," Cohen said.  "From the number of items sold to the interest we had, it's pretty clear the vintage market continues to be pretty strong."
Memory Lane currently is taking consignments for its August auction and is offering a free VIP pass to this year's National Sports Collectors Convention for those who consign. For more information, click the link above.
Chris Olds is the editor of Beckett Baseball magazine. Have a comment, question or idea? Send an email to him at colds@beckett.com. Follow him on Twitter by clicking here.