PSA 10 1948 Bowman George Mikan rookie card heads into uncharted territory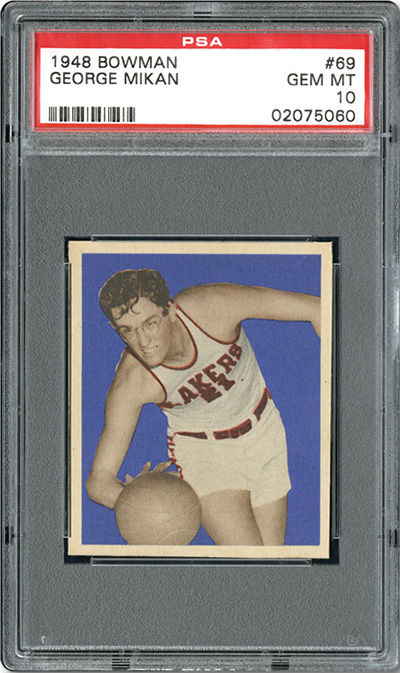 By Ryan Cracknell | Hobby Editor
Michael Jordan might still be the king of cardboard when it comes to basketball, but even he can't stop a vintage gem from breaking records. A PSA 10 1948 Bowman George Mikan rookie card sits at more than $150,000 with several days remaining at SCP's Fall Premier Auction.
And while that's a big number, expect to see some big jumps. The same card sold for $225,000 in 2009. Pre-auction estimates suggest it could double this time around.
The PSA 10 1948 Bowman George Mikan rookie already holds the record for the highest price paid for a basketball card in a public sale. It's the only copy of the card to get a Gem Mint grade from PSA. Just four have received a 9. Needless to say, it puts the card in some rare company. With the rise of blue chip vintage cards in recent years and the fact that most top-condition cards have likely been professionally graded, it's unlikely these population reports will rise much — if at all.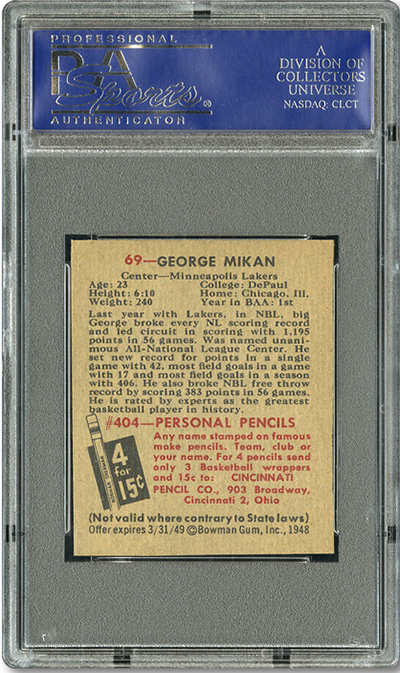 Mikan is considered a trailblazer in basketball. His size and play led to several rule changes like goaltending and the introduction of the shot clock. Mikan retired averaging more than 22 points per game for his professional career. He also won seven total championships between the NBA, NBL and BAA.
The 1948 Bowman Basketball set is the only one the company released before being purchased by Topps. It was nearly five decades before the brand returned to the hardwood with 1996-97 Bowman's Best Basketball.
Bidding on the PSA 10 1948 George Mikan rookie card closes on Saturday, December 5.