FIRST LOOK: 2011 Prime Signatures Football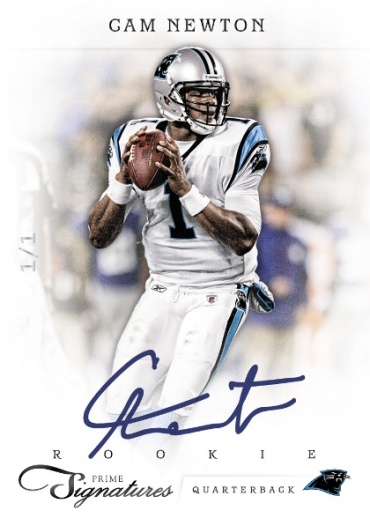 By Susan Lulgjuraj | Contributing Editor
For collectors looking for autographs, 2011 Prime Signatures Football seems to be the place to turn.
Scheduled for a mid-February release with autographs from rookies, veterans and legends, the product is a "re-imagined upgrade of the 2002 Playoff Prime Signatures Football issue," Panini wrote in a release.
Each box will yield four cards: one autograph numbered to 249 or less, two base cards numbered to 499 or less and one additional base card or insert.
The 261-card base set includes 175 current stars and retired legends as well as 86 rookies.
The Rookie Cards will be autographed, including 36 on-card signatures from the players that attended this year's NFL Players Rookie Premiere.
Some of the veteran and retired-player autographs in the set include Troy Polamalu, Matthew Stafford, John Elway, Barry Sanders, Dan Marino and Joe Montana.
The autographs come in tiered parallels: Silver (/75), Gold (/25), Platinum (/5 or less) and Printing Plates (1/1).
The Call to the Hall Signatures – featuring Hall of Famers – are numbered to 49 or less and Call to Hall Combo Signatures are numbered to 25 or less.
Check out a gallery of pictures below.
Susan Lulgjuraj is a contributing editor for Beckett Media. You can email Susan here. Follow her on Twitter here.