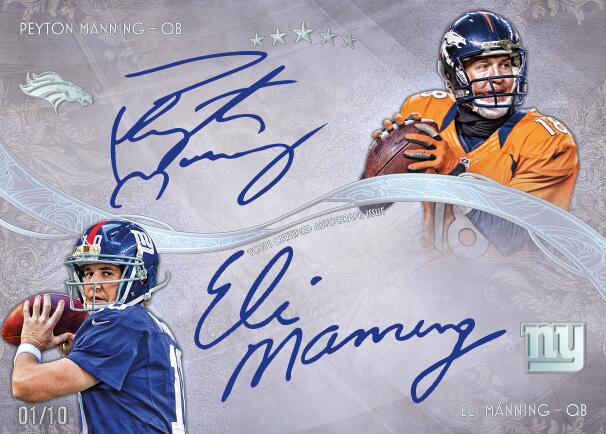 By Susan Lulgjuraj | Beckett Football Editor
Five Star Football has become a favorite of high-end collectors since Topps introduced it on the market in 2010.
Topps offered a full preview of 2013 Five Star on Friday. Each box will come with four on-card autographs and one jumbo jersey or patch card. Specifically, the breakdown is one Autographed Rookie Card, one Autographed Rookie Patch Card, one Autographed Veteran/Retired or Veteran/Retired Autographed Patch, one Autographed Relic Book or Multi Autograph and one Jumbo Jersey or Jumbo Patch Relic.
There are a number of autograph subsets in Five Star, including Five Star Futures Autographed Cards that features up to 40 rookies.
In addition, Topps included Five Star Future Quotable Autographs (a special inscription from rookies), Five Star Signature Cards (retired/veteran players), Five Star Quotable Signature Cards (retired/veteran inscriptions) and Super Bowl MVP Autograph Card featuring Baltimore's Joe Flacco. There will be a number of parallels, including Gold, Rainbow and Five Star.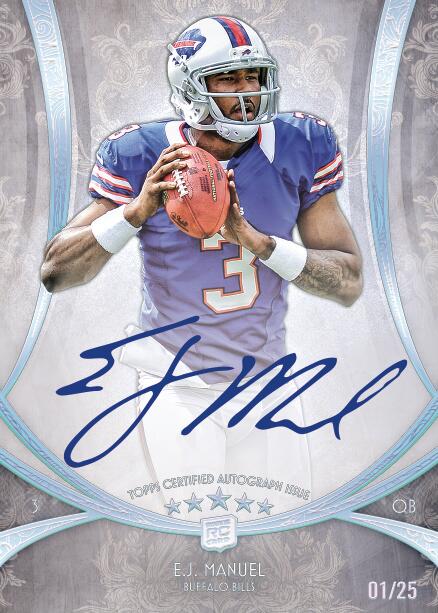 Autograph Relics will feature Base Rookie Autograph Patch Cards with 40 players. There will be Gold (numbered to 55), Rainbow Jumbo Patch (numbered to 25) and Five Star Jumbo Patch (1-of-1) parallels.
Topps will also include Five Star Signature Patch Cards with up to 20 veteran or retired players. These will also have Gold (numbered to 40), Rainbow and Five Star parallels.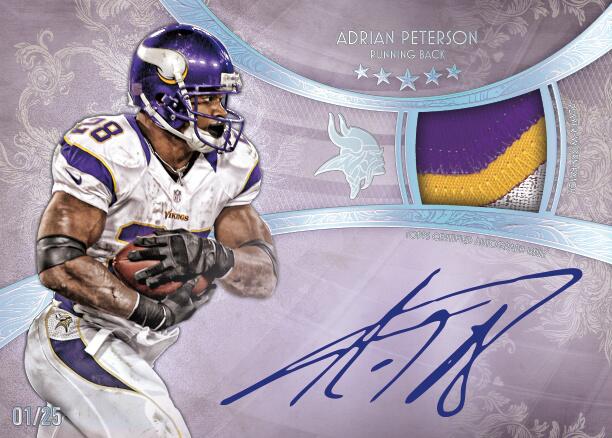 Five Star Signature Book Cards are back. These will have up to 30 veteran/retired subjects with an autograph and three relic pieces.
Rookies will be featured heavily in the booklets with three different subsets: Five Star Futures Autographed Book Cards, Five Star Futures Autographed Book Cards with four pieces, Five Star Futures Dual Autographed Patch Book Cards, Five Star Futures Autographed Laundry Tag Book Cards, Five Star Futures Quadra-graph Book Cards, Five Star Futures Six Signatures Book Cards, Five Star Futures Eight Autographs Book Card and more.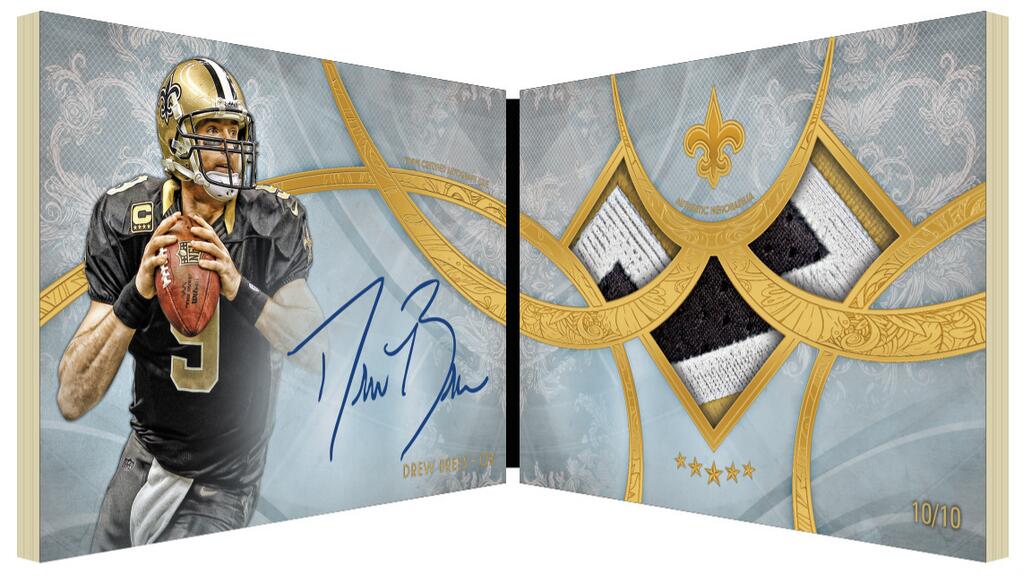 Jumbo Jersey Relics will include rookies, retired stars and veterans. Topps will mix up the relics to include Letters and multi-relic cards.
The Super Bowl is getting special treatment in Five Star. Topps is including Super Bowl MVP Relic Cards with pieces of game-used football and Super Bowl end-zone pylons.
One special card will be the Rookie Yearbook Card with a group shot from the 2013 NFLPA Rookie Premiere with patches from each player.
There are also hits for Autographed Rookie Footballs and Autographed Rookie Helmets.
Topps Five Star is scheduled to come out in mid-March.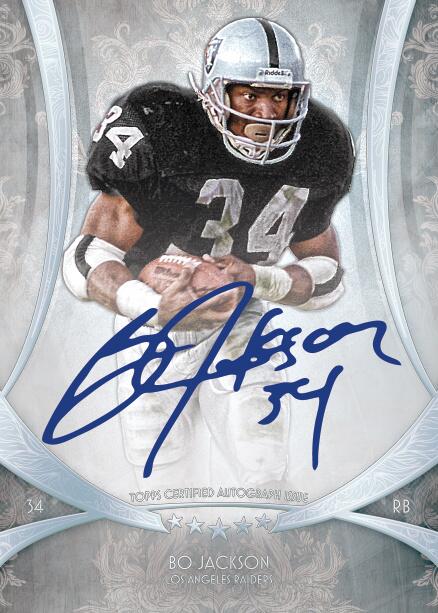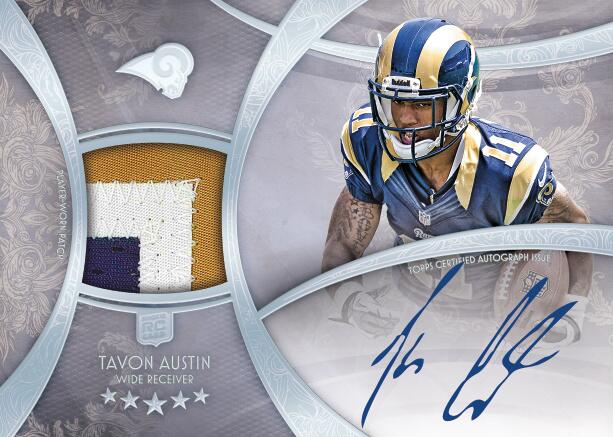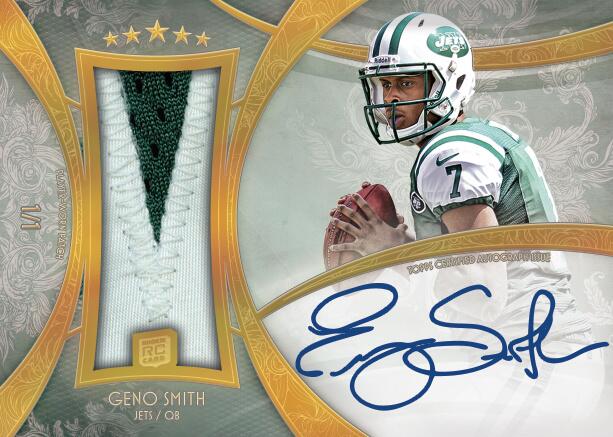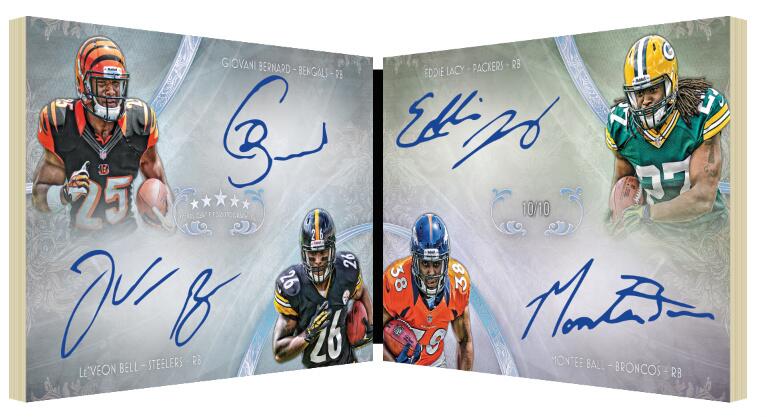 Susan Lulgjuraj is an editor of Beckett Football. You can email her here with questions, comments or ideas. Follow her on Twitter here. Follow Beckett Media on Facebook and Twitter.