First Look: 2014 Panini Flawless Football
Panini is bringing is popular Flawless brand from basketball and hockey to the gridiron at the end of next month.
Releasing Oct. 31, 2014 Panini Flawless Football will feature plenty of on-card autographs and patch cards. Every card will be numbered to 25 or less.
Flawless is configured with 10 cards per pack, one pack per box and two boxes per case. Each box delivers seven Autographs, two Jumbo Prime Memorabilia Cards and one Diamond or Emerald Card. Yes, an actual diamond or emerald. Even the base cards, which are numbered to just 20, contain an actual diamond.
Rookies are featured on autographed cards or autographed patch cards. There are also plenty of all-time greats throughout the product. Check out the scans below and leave a comment on your opinion of Flawless and its launch into the football card hobby.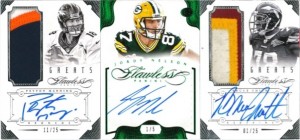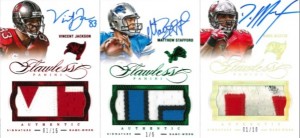 David Lee
footballeditor@beckett.com
Twitter: @FreeEnergyDude