Press Pass reveals wrapper opportunity, other ready redemptions in 2011 Legends

By Andrew Tolentino | Football Editor
Not that its latest football line lacks redeeming qualities, Press Pass recently unveiled its wrapper redemption program and some significant signature news for 2011 Legends collectors. Just now hitting shelves, the early-season favorite is filling out right on time.
What might your wrappers warrant? Press Pass Director of Product Development Nick Matijevich explains:
"With the economy still in the process of turning around, and collectors looking to get the most value for their money, we have decided to deliver an exclusive bonus auto of Daniel Thomas to collectors who send in 18 opened wrappers, while supplies last."
Why tout Thomas?
"With the Dolphins trading up to get him in the second round and their two current running backs entering free agency, it appears as though he will be a starter from Day 1, so we expect these cards to be highly sought-after."
Assuming that this Dolphin can truly move on the ground (hopefully, better than this), collectors could end up kicking themselves if they miss this opportunity.
Here's how to avoid that shoulda-coulda-woulda scenario:
Get your hands on 18 2011 Press Pass Legends wrappers (buying a box is easier than dumpster diving)
Legibly print or type your first and last name, mailing address, email address and phone number on a 3″ x 5″ index card
Stuff all of the above inside a mailer of your choice and address it to:
Press Pass Inc.
Dept. 11 Press Pass Legends FB Wrapper Redemption
9115 Harris Corners Parkway, Suite 200
Charlotte, N.C. 28269
Mail it ASAP to beat the "while-supplies-last" curve.
But before you go trapsing off to the post office though, you might want to double check your box for a few redemption autographs — now ready for fulfillment.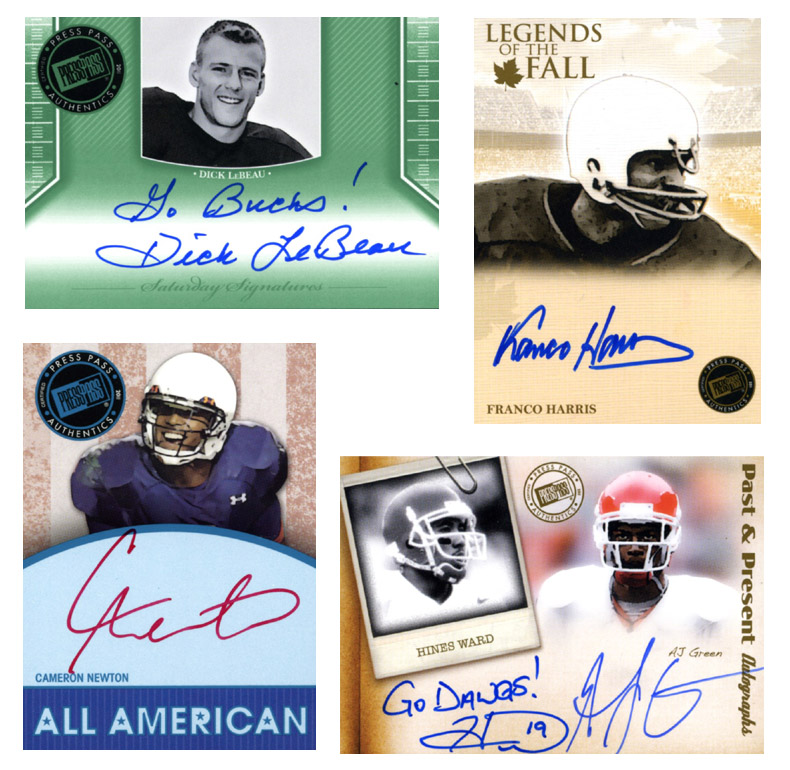 Press Pass also announced that product signers Cam Newton, Dick LeBeau and Franco Harris have all inked and returned their autographs for collectors lucky enough to land their redemption cards. Hines Ward and A.J. Green — who teamed up for dual autograph cards — have returned their partnered penmanship as well.
Recent box busters who pulled Emmitt Smith and Mark Ingram redemption cards should receive their autographs shortly after the manufacturer's signing session, scheduled to occur this weekend.
Stay tuned to Beckett.com for more coverage on the most coveted red ink and inscriptions floating around in 2011 Press Pass Legends.